Behind every great outdoor event is power generator technology. Generators have long been the power option of choice for market stalls, festivals, and school fetes. Now their popularity has reached an all-time high thanks to the growing trends of pop-up bars and food vans. In fact, portable electric generators provide power to almost all events and festivals in Australia today.
But with so many generators to choose from, how to you know which is the best generator for your mobile business or event?
In the majority of cases, the best generator option for smaller festivals, events and food vans/coffee carts is an Inverter Generator. Inverter generators not only produce a pure stable energy, they also come in more portable and lightweight designs that are perfect for events and businesses on the move. Such is their versatility, inverter generators are also the chosen portable power solution for many campers, caravan and 4wd enthusiasts.
How do Inverter Generators work?
The Inverter is a lightweight microprocessor that replaces the heavy alternator in conventional-style generators. Inverter generators produce a "pure stable sine wave" output that is as clean (or cleaner) than a normal power outlet from your home or office. This means they are perfect for directly running your personal electrical devices, kitchen equipment, home appliances etc. Here's a quick vid that looks at what an inverter provides:
More benefits for users:
Easy to Move
Inverter technology allows manufacturers to design ultra light and compact generators that are perfect for portable businesses or events where you need to move the generator from your van or to the other side of a field for example. Trust us, we've been there! You can pretty much guarantee that they'll come with nice neat comfy handles too, and some are complete with built-in wheels for easy maneuverability.
Nice and Compact
The improved efficiency of Inverter Generators compared to conventional generators means they can be up to half the size! That means they won't take up much room in your food van, market stall etc, and will be easy to pack away and transport. Inverter generators range from 1000 to 6500 watts in power output to suit different recreational, domestic and small/medium business uses - to make sure you get the right sized generator to run the appliances you need, refer to our simple step by step buyer's guide.
Good Quality, Stable Power
But don't be fooled by their size. Inverter Generators give out higher quality power than conventional generators. In fact, by far the best feature of Inverter Generators is their ability to produce clean power that won't surge or spike. This means you won't risk damage to more sensitive electronic devices such as laptops, mobile phones, microwaves, blenders etc. Phew!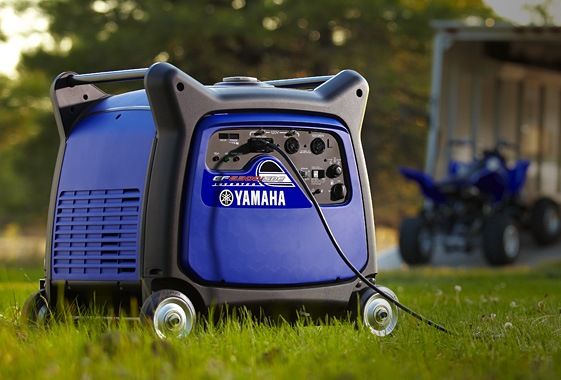 No Fuel Guzzling
With an Inverter Generator, you get more power for less money. Because the engine speed automatically adjusts in direct proportion to the load applied, the generator maximises the fuel efficiency while maintaining 240V (50 cycles) supply. This means you can enjoy a longer continuous running time without needing to refuel. Handy when you're managing an event or driving your food van from one spot to another without time to refuel.
Whisper Quiet
Unlike their noisier counterparts, Inverter Generators don't give out annoyingly loud humming and vibrations. If you really want your customers to enjoy themselves in peace, then inverter generators are the go, with with sound-proofed casing, insulators and mufflers. Bliss! Refer to the below noise level table showing how quiet Yamaha Inverter Generators are: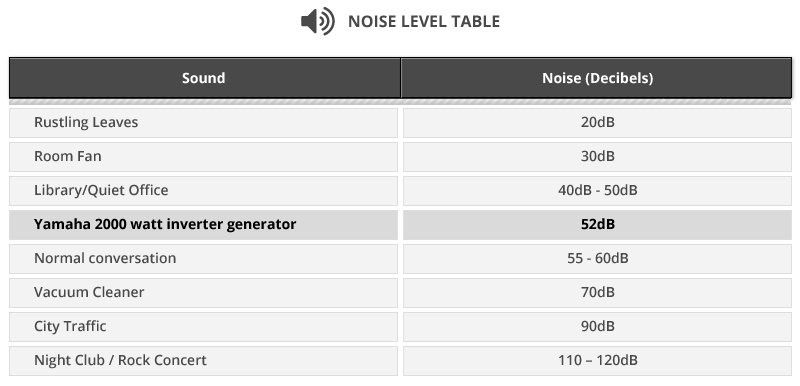 Larger Events?
It's worth noting that inverter generators are not designed for heavy, inductive loads such as running heavy power equipment. So whilst they are typically quieter, lighter, more fuel efficient and provide cleaner power, if you intent to run larger power tools or heavier machinery, then you may need to consider a Tradesman Generator or AVR Generator. These generators are still portable, but designed to run bigger equipment; pumps, compressors, welders, brick saws etc etc.
Even larger again are Stationary Generators, which would be appropriate for running entire festivals and significant sized events. These are large diesel units which typically provide Three Phase Power for requirements of 15kVA and above. Often these units also require certain outlet and accessory configuration which can be discussed with an expert by calling 1300 400 122.
But when it comes to choosing a generator for your small event or business on the go, take a look at what an inverter generator has to offer: they are a great piece of equipment that will likely serve your needs very well!
More Info?
As mentioned above the best place to start when selecting a generator is working out what size you need for your application - this video here takes you through the steps:
For more information, visit MyGenerator.com.au or call us on 1300 400 122.
DISCLAIMER* Please note, this advice is general in nature and we strongly recommend consulting the product manual and where relevant, a professional installer.