Second-hand cars are one thing, but when it comes to buying a used generator, there are a few things you should be aware of.
Let's be honest, nobody likes to part with more hard-earned money than they have to, which is why the second-hand market in Australia is big business. But just like when you buy a second-hand car, if you see a used generator for sale, it's worth stopping and giving it a little more thought.
Before you start shopping, weigh up the pros and cons of buying a used or new generator. To help, here are some things you need to know:
Does the generator come with a warranty?
This is a huge no-no for many people. When you're buying something with so many moving parts like a generator, you want the piece of mind that you can get it fixed if something goes wrong. And even though generators these days are built to last, things can still go wrong. Of course, some second hand generators may come with a warranty or guarantee of some kind, depending on their age. But that warranty is usually void if you are not the original owner. With a new generator, however, you always get a warranty and have the peace of mind that there is after-sales service support should you require.
How much was the generator used?
The thing about buying a used car is that you know how much it's been used - look at the kilometres. You know each kilometre has taken its toll on every component of that car, from the body to the engine, suspension and tyres, and can make your decision accordingly. So how do you know how much the generator has been used? In short, you don't. There are some signs an expert technician can pick up on...but most of the time you just have to take the sellers word for it. They might tell you that second hand Honda generator has only been used occasionally for back-up or standby power, but the truth is you will never know. With a new generator, you know exactly where that unit has been and who it's been used by - that is, nobody until you.
Do you get value for money?
One argument for buying a used generator is that it provides better value for money. But the pricetag on those used Honda generators isn't the best way to gauge whether you're getting good value for money. You need to consider fuel economy, durability of parts/components and many other factors. This is where a new generator will always win over a used generator; you need to consider the costs going forward, not just the initial outlay.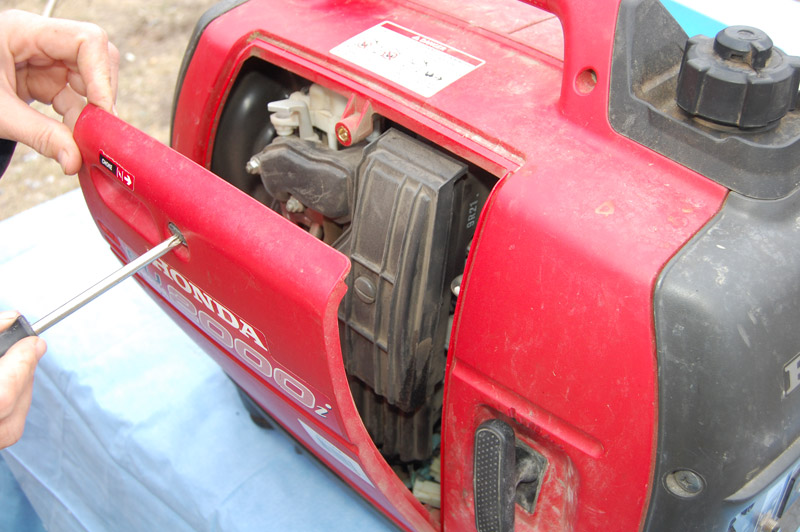 What features do you want?
If features are important to you then a new generator could be the better option. Generator technology is evolving all the time, and manufacturers are constantly introducing sets with additional features to drive better fuel economy, efficiency and safety. Just another reason why new generators provide better value for money over used generators...furthermore, some generators require factory fitted additional accessories for your specific use - things such as remote start, two-wire auto start, earth leakage protection etc. These extra features need to be fitted by the manufacturer to ensure appropriate compatibility with your genset.
So if you're looking for great value for money and peace of mind, your best bet is to choose a new generator. The additional cost outlay will likely save you more money in the long run.
-
DISCLAIMER* Please note, this advice is general in nature and we strongly recommend consulting the product manual and where relevant, a professional installer.