Starting a mobile coffee cart business? Before you start honing your milk frothing, you need enough portable power to run the coffee machine. Here, we look at the best coffee cart generator on the market.
Operating a coffee cart with a generator is the best way to expand your business into new locations as it eliminates the need for a mains power connection. The type of generator you choose for your coffee van business will depend on a number of factors.
First and foremost the genset needs to be portable, so it doesn't take up too much space in your van and can be easily moved from A to B. It also needs to have sufficient rated output to power your coffee machine, coffee grinder etc. The bigger the coffee machine, the bigger the generator needs to be. (If you need help determining what size generator, check out our simple step by step guide here)
Another factor to consider is noise output: you don't want your caffeine-deficient customers to have to shout their coffee order over the roar of your generator!
The good news is there are plenty of generators out there that are ideal for your needs and to satisfy your size, noise and power level requirements as stated above... The best option is a portable inverter generator. This type of generator includes a lightweight microprocessor (the inverter) that replaces the heavy alternator found in conventional-style generators to provide a stable sine wave delivery. Perfect for powering sensitive appliances such as laptops, TV's, phones and other electronic appliances.
There are some great inverter generators on the market... and some not so great ones. Here, we've done the dirty work (i.e. consumed lots of coffee) to find the best of the bunch:
-
By far the most popular coffee cart generator, this inverter generator is large enough to comfortably power your beloved coffee machine, grinder, fridges, tills, lights etc. It's also a popular choice for food vans. Because most coffee machines and grinders need more power than the average portable generator can provide, the 6300 watts produced by this Yamaha generator is the best bet in most cases.
-
Another thing we love about this generator is its noise level - or lack thereof. It features noise block technology and inbuilt mufflers for super quiet operation. And because it has an inbuilt smart throttle, you can enjoy maximized fuel efficiency while you're on the road. All this comes in a portable package complete with in-built wheels and lifting handles as well as a 48-month warranty.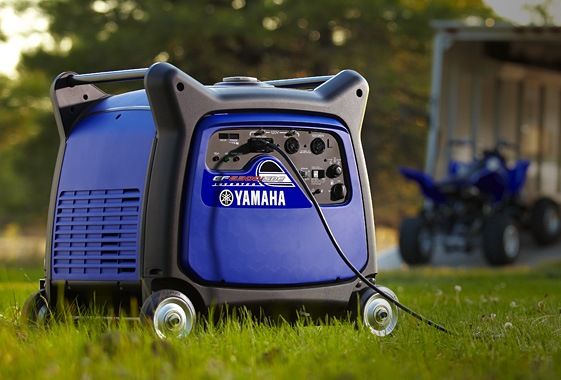 If you're looking for power but not for a hefty price, look no further than the 6500w Inverter Generator by Briggs and Stratton - newly released the Australian market in 2018. This generator is everything you need to run your mobile food van, coffee cart, small business back-up and home back-up! Delivering 5000 running watts and 6500 starting watts, this compact and light generator offers big backup power potential.
This generator features 1 x 230V (32 amp), 2 x 230V (15amp) outlets and 2 x USB charging ports! It also features PowerSmart inverter generator technology which automatically adjusts the engine speed to protect sensitive electronics like smart phones, tablets and laptops! All this plus a 3 year limited warranty and a National network of parts and service agents, all for under $2,999, making it very compelling against the Yamaha and Honda equivalents!
-
If your coffee machine and associated equipment is of a smaller variety, this generator might be sufficient. It delivers a maximum 2000 watts which is ideal for smaller appliances - some smaller coffee set-ups can get away with just using this little unit (but be sure to do the numbers first and calculate your specific wattage requirements). One of the best things about the Yamaha EF2000iS is its compact size and weight - it's actually the lightest portable generator in its class, which couldn't be more perfect where a mobile business is concerned. Also whisper quiet and as with all Yamaha units, it comes with a 4 year warranty and national service network. Lastly, this unit has the capability to connect with another identical model to almost double the power when paired together, as shown in this customer video:
If you're looking for a budget friendly model for small to medium coffee carts and food vans then the MaxWatt 4500W Petrol Inverter Generator with Electric Start is a top choice. With a peak power output of 4500W, continuous output of 3700W and continuous run time of 9 hours at 50% load you will always have enough power for the days trade.
You don't have to make sacrifices on noise for an affordable and powerful generator, the MaxWatt 4500W Petrol Inverter Generator operates at just 62dB at 7 metres. The generator also comes with a built in wheel and handle kit for ultimate portability.
Other similar options to the MaxWatt 4500W Petrol Inverter Generator include the Cromtech 4500W Inverter Generator Electric Start and Briggs & Stratton 4500W Inverter Generator.
-
Final Tips!
1) Watch this short video on how a food van owner uses a wattage meter to measure the power draw of his appliances and in doing so, ensures he has the right generator size and set up to run his food business:
-
2) An important safety point with generators and coffee carts/vans is that when operating the generator it must have ventilation to draw in fresh air and for the release of exhaust fumes. Enclosing the generator and not providing sufficient ventilation during operation is unsafe and can damage the generator. Be safe kids! :)
More Info?
Still not sure which generator is right for you? Why not explore the full range of coffee cart generators at My Generator or read related articles below, to further help you choose the right generator for your mobile business:
-
DISCLAIMER* Please note, this advice is general in nature and we strongly recommend consulting the product manual and where relevant, a professional installer.