You don't need to carry around fuel to power your favourite appliances anymore! While a generator still can be an efficient way to travel off-grid (especially for high power drawing appliances), portable battery packs are becoming increasingly popular. These fuel generator alternatives allow for portable power without the noise, fumes or maintenance of a traditional generator. The best thing about camping battery packs are that they're portable so they don't need to be hard wired into your vehicle.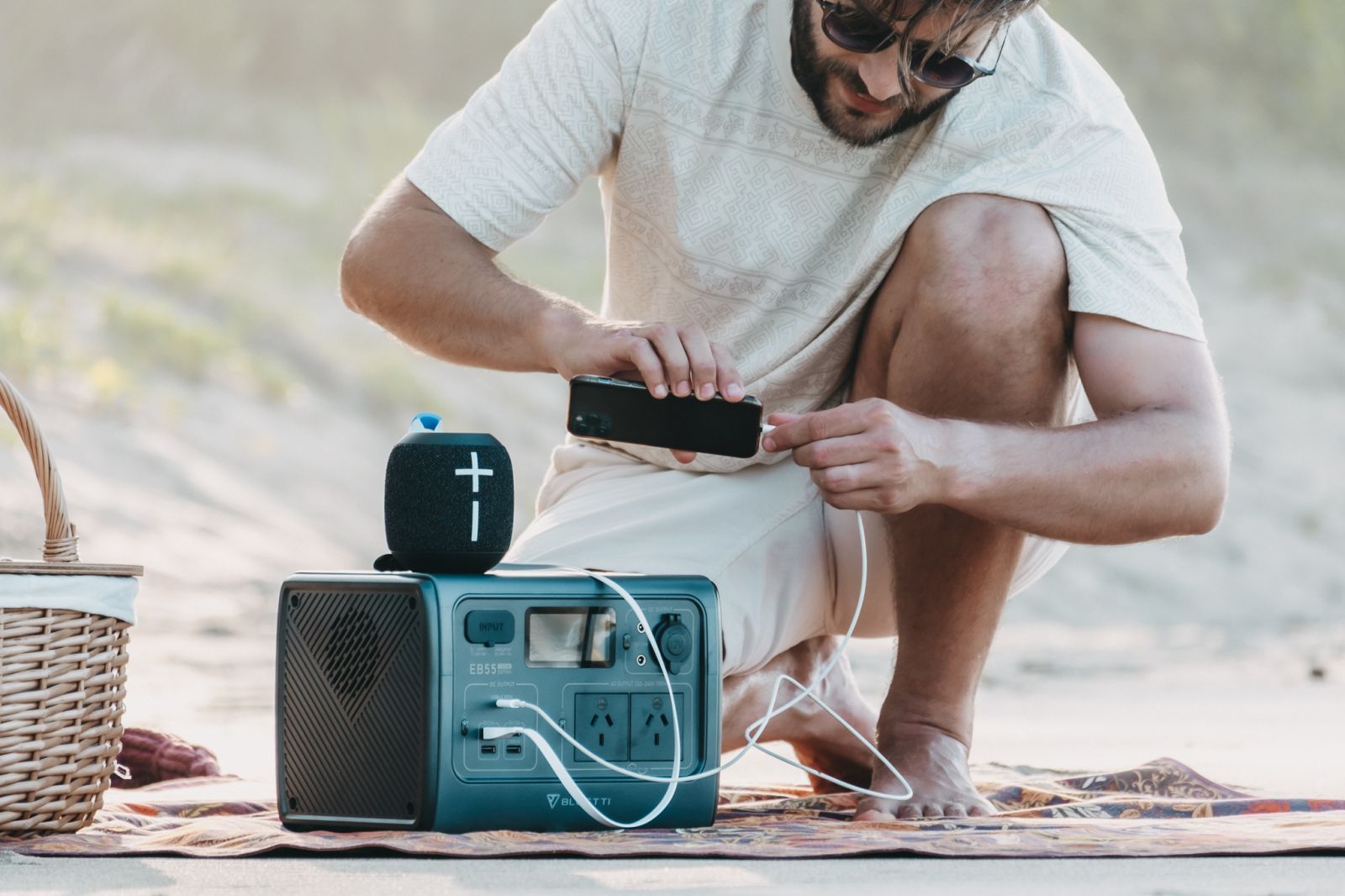 The current range on the market varies in size, capacity and battery type depending on your application and needs. You will need to consider what you want to power when choosing between the various batteries on the market.-
This article focuses on 'battery packs' which have in-built sockets, chargers, display screens and other features so you don't have to buy other separate appliances like inverters etc. If you are interested in camping batteries alone, check out our range of Lithium and AGM options.
Let's run through a few of our favourite camping battery pack models and brands:
EcoFlow Portable Power Stations:
EcoFlow Portable Portable Power Stations stand out in the market because they are the world's fastest charging power stations!
The smallest model in the range is the EcoFlow River600 Portable Power Station which offers 24Ah and is a great option if you're looking to run smaller devices like your mobile phone. This model can be charged in 96 minutes with the option to double the amp hours with an extra battery bundle.
The next model up is the EcoFlow River600 PRO Portable Power Station which offers 60Ah. Again this can be bundled with an additional battery for 120amp capacity. This unit is charged from 0-80% in under an hour, or to full in 96 minutes!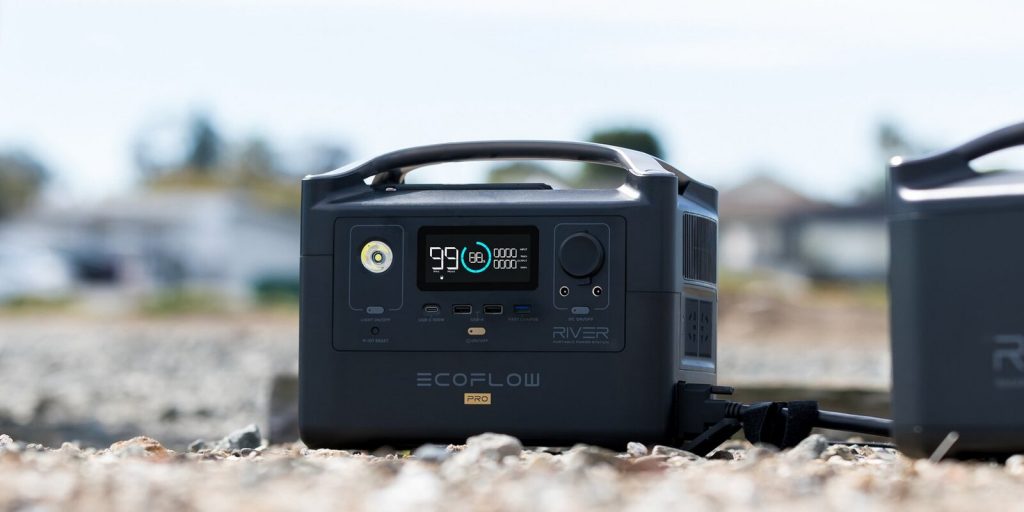 The EcoFlow DELTA Portable Power Station is currently our most popular EcoFlow model. It offers 105Ah and from a wall outlet can be charged from 0-80% in under an hour and be fully charged in just 96 minutes! This is ten times the speed of most other competitors! Did we also mention that is can simultaneously charge up to 13 devices at once?!
Looking for something a little bigger? Checkout the new Ecoflow Delta Max 1600 Power Station!
The EcoFlow DELTA MAX Portable Power Station is the second largest model in the range with a 168Ah capacity. It can charge from 0-80% in just 65 minutes! This impressive model can run heavy-duty devices up to 3400W and is often use as emergency home backup power.
The Ecoflow Delta Pro Power Station is the largest in the range with a 300Ah / 3600W capacity! It is ideal for regular home backup and you can even pair two units together for a huge 7200W capacity!
The EcoFlow Portable Power Stations have been extremely popular with our customers as they charge extremely fast, can be charged via solar, 240V or 12V, and they come with a two year warranty!
-
-
Bluetti Power Stations:
The Bluetti power packs are an affordable range that are relatively new to the Australian market. Each power pack features lithium battery technology so you can get the most out of them for years to come. They offer four models to meet the varying needs of caravanners and campers.
One of Bluetti's largest models is the AC200 Portable Power Station 2000Wh.This model provides you with the flexibility to power your must have appliances on the road. It can also be used around the home for heavy-duty DIY tools under 2000Wh. A stand out feature is it's ability to charger 13 devices simultaneously (depending on power consumption of the devices). Bluetti also offer portable solar panels that are compatible with their range of power packs.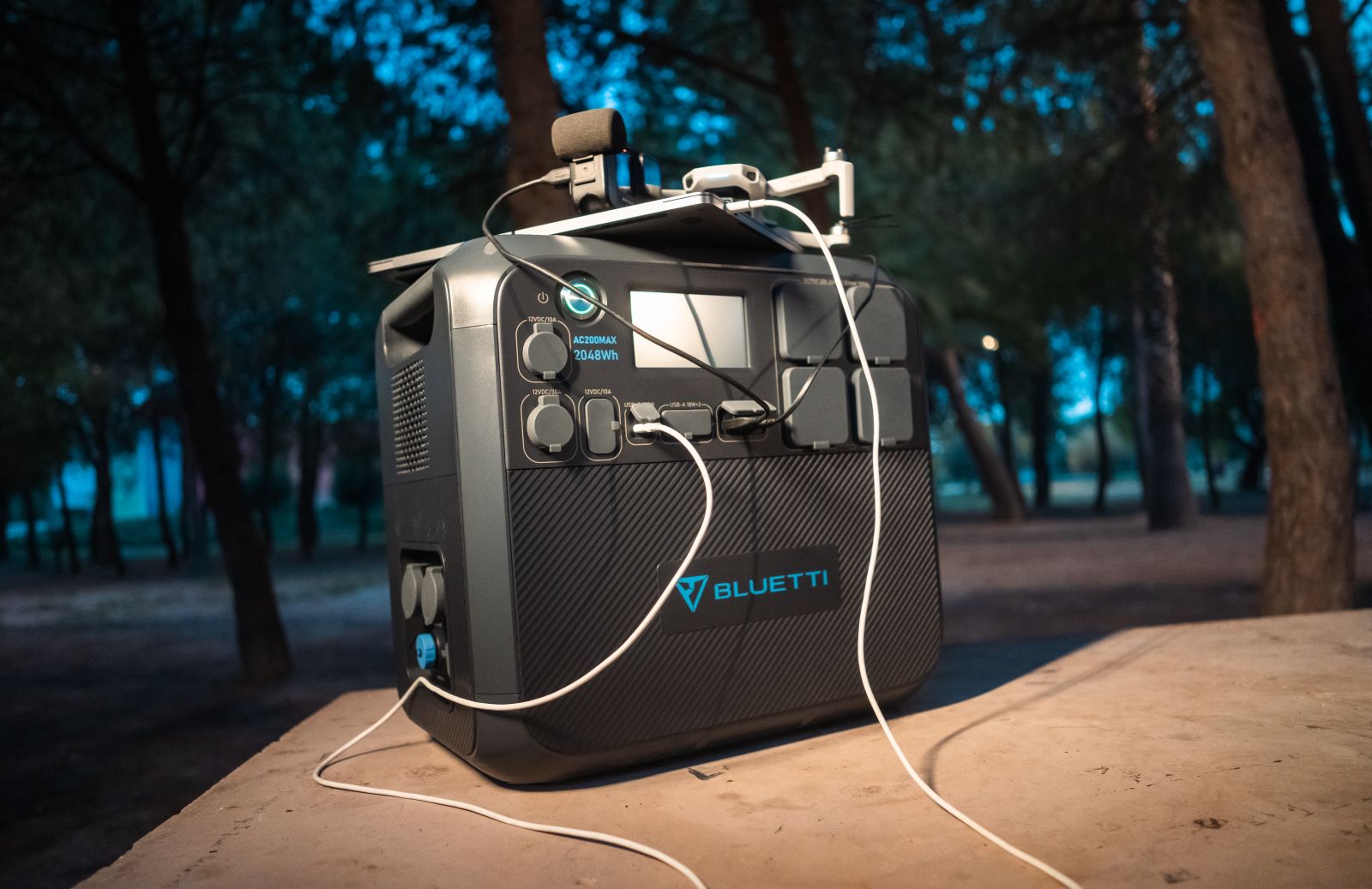 The smaller and affordable option EB3A by BLUETTI effortlessly combines compact design with exceptional power, making it a dependable companion for both small tasks and significant undertakings. Equipped with a robust 600W AC Pure Sine Wave Inverter (capable of 1200W surges) and an impressive 268Wh capacity, it easily handles appliances ranging from mini blenders and rice cookers to small refrigerators. Check out the Bluetti 200W Portable Solar Panel for a compatible option with the EB3A.
Goal Zero Battery Packs:
If you're searching for more variety in terms of battery size and type, Goal Zero is the ultimate brand to look into! The brand offers both AGM and lithium battery packs depending on your power requirements. Both battery types feature built-in inverters meaning you can also run 240V appliances as well as your favourite 12 volt camping appliances.
Goal Zero's Yeti Lithium Power Stations are some of the most versatile and innovative power stations on the market! They feature built-in surge allowances and multi-stage protection, meaning greater compatibility with more devices. These Lithium models have become increasingly popular due to being lightweight and very efficient, but they do cost more than AGM packs.
The Goal Zero camping battery range is currently offered in six capacities:
The three larger lithium battery packs are also designed to run lights and appliances during an emergency home power outage.
The best thing about the Goal Zero Power Stations is that you can use them in conjunction with a solar panel to travel off-grid indefinitely! The brand offer a range of packs that include a power pack and a solar panel for your convenience. Many of their solar panels can also be chained to others if you're chasing extra solar power.
-
Jackery Power Stations:
The Jackery Explorer 500 is a 518Wh lithium portable power station that has been tried and tested in Australian conditions for many years. You can pair this power station with a portable Jackery 100W Solar Panel for solar recharging while on the road. At 6kg and under $750 this lithium power pack is one to consider!
Other Options?
Yes. You can simply build your own 'power pack' by taking an existing battery (say a typical 100-120amp AGM battery) and put it into a Battery Box. These boxes can turn your battery into a versatile user friendly option for powering and charging a wide range of accessories and appliances while you are 'off the grid'.
Look out for batteries that come with a battery box included such as the Power AGM NPC12V85AH Deep Cycle 4WD & Marine Battery.
Another popular option is the Enerqizer Power Packs. With a number of sizes to choose from these packs are tough and durable for your off road adventures. Perfect for travelling with to charge up your phones, laptops, e-bikes and even mini fridges.
Check out the full range of camping battery boxes HERE and look for brands like Power AGM, Projecta and Thunder.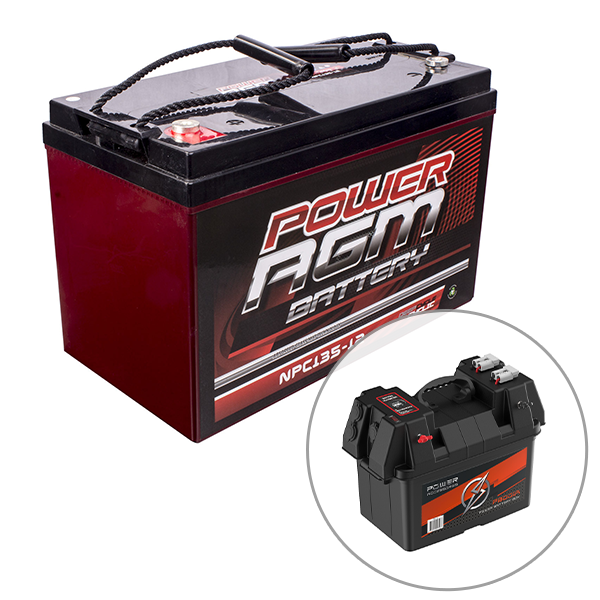 DISCLAIMER* Please note, this advice is general in nature and we strongly recommend consulting the product manual and where relevant, a professional installer.