Let's face it - off-roading in the Aussie bush is the reason we own a 4WD in the first place. But when the light fades, you want to know your 4WD lights will help you drive safe.
The question is, which 4WD lights do you choose? From spotlights to light bars, there's a huge range to choose from.
Here we reveal how to choose 4WD lights for your vehicle.
-
4WD Spotlight Or Light Bar?
Before you decide, let's take a look at the difference.
A light bar is a 4WD light mounted to your vehicle that is longer and creates a wider spread of light - perfect if you want to see more of the track at night.
Light bars are typically LED lights which means they use less power than traditional driving lights while still giving incredible coverage.
Light bars are commonly utilised on 4WD bull bars or roof racks but can serve as additional lighting for your campsite as well. Typically, they are affixed to the side of your awning or roof rack, providing supplementary illumination without the intense brightness of a spotlight. Moreover, you have the flexibility to adjust the brightness level using the included control function. For a smaller alternative, consider exploring the Bushranger Night Hawk 5.5" VLI Series SR LED Light Bar.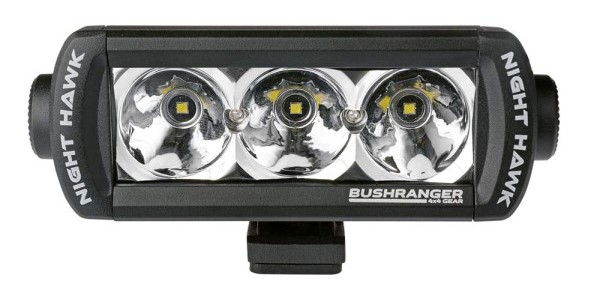 Spotlights help keep the track illuminated, especially when you're driving through poor conditions such as fog and mist.
If you go for spotlights, consider the light patterns. Some 4WD spotlights give you the option to change the beam pattern for a wider light spread which is a very handy feature. A number of Spotlight Kits will include a wiring harness, making it perfect for a DIY-er. With some models you are able to purchase additional wiring kits, to run more than 2 at a time.
To choose between 4WD light bars and spotlights, ask yourself:
Will You Use Your Lights Camping?
When selecting a light bar for your upcoming camping trip, it is advisable to opt for a smaller model with lower lumens. This choice will help prevent excessive brightness at your campsite, ensuring that neither you nor your neighbors are unnecessarily blinded by bright lights. Front Runner, the experts in 4WD accessories, provide an extensive selection of 4WD vehicle lighting options suitable for illuminating your campsite. Choose from a variety of sizes here.
-
Will I Drive At Night On 4WD Tracks Or Off-road?
If yes, choose spotlights. They give you better illumination over long distances so you can spot wildlife and navigate in poor conditions.
-
Do I Need A Wider Range Of Illumination?
If yes, a 4WD light bar is the top pick for you. They come in a wide range of sizes to suit popular vehicles.
-
Which Size 4WD Light?
Whether you choose a light bar or 4x4 spotlight, you need to get the right size for your vehicle. Look at the size specs and installation requirements when selecting brands. Some lights come with mounting accessories, or you may need to buy optional extras.
-
Halogen, LED or HID?
Most 4WD lights are LED these days, but you can still get great quality halogen lights. Let's take a look at the difference between the three types:
Halogen Lights:
These work in a similar way to normal incandescent light bulbs but are designed to be vibration resistant. They also last longer and shine brighter than incandescent bulbs.
Different wattages are available - most people go for 55 watt or 100 watt. The higher-wattage lights are brighter but also draw more current. For example, a typical 12V 100-watt halogen light will draw just over 8 amps. This isn't much by itself, but when you have four lights on your 4WD, that's more than 32 amps.
You can get high-performance halogen driving lights. For example, the Lightforce Halogen Genesis is a 100W single light that delivers maximum light output for the size of the light. It has a shatterproof poly-carbonate lens and protection against dust and moisture.
LED Lights:
When it comes to performance and affordability, LED 4WD lights are a top pick. LED technology (which stands for Light Emitting Diode) are compact, tough and durable. There's very little to break! So, when the road gets rough, you know your lights will last the distance.
Speaking of longevity, a typical LED should last you around 50,000 hours, which could be longer than the life of your vehicle!
Another benefit of LED driving lights is that they reduce glare.
LEDs are amazingly energy efficient too. They draw significantly less power than halogen lights - just what you want when you're hitting the tracks for a long weekend.
And if looks are important to you (we get it, don't worry), LED lights look brilliant on any 4WD vehicle.
LEDs used to be a pricier option but they have come down in price massively as the technology has become more mainstream.
-
HID Lights:
HID (High-Intensity Discharge) lights are a different beast altogether. These 4WD lights are known as Xenon lights because they use an inert noble gas inside a bulb. This creates an arc of light between two electrodes when a charge is passed through.
HIDs aren't new - they've been around since the '90s. But their higher cost has always put them out of reach of many 4×4 drivers, until recently when their prices started getting more competitive with LED lights.
They are more robust and more powerful than halogens. In fact, HID lights are around 2.5 times more powerful than a similar halogen. Like LEDs, they can also produce a white-hot beam, making halogens seem dim and yellow in comparison.
They also have a lower current draw than halogens - around 60% less than a standard 100-watt halogen bulb.
But there's a catch - they do not run directly on low-voltage DC current. Instead, they need an ignitor and ballast to reach required voltage and brightness. Most modern HID lights have them built into the housing, but some still need an externally mounted ignitor and ballast, making installation more complex. Also, with more parts, there's more chance of breaking than LEDs.
Another drawback of HIDs is that they can take a few seconds to ignite and get to full brightness, which isn't ideal if you're in a rush.
-
Which Brand?
Depending on your budget and needs, there are lots of brands to choose from:
Bushranger is the most popular brand and for good reason. You get top quality lights with innovative features and a 5 year warranty. Check out the NightHawk spotlights which are so bright, Bushranger has added a feature to give you complete control of the light intensity in conditions where too much light can be detrimental to clear vision. There are also two protective covers which allow you to change the beam pattern quickly and easily. Not to mention, they look really good!
Great White is constantly updating its range with new light options for 4WD drivers. The latest Attack range outperforms the predecessor Gen 2 range thanks to market leading LED technology which combines the best Cree LEDs with superior reflector technology. This winning combination sends a powerful beam of light down the road while also providing ample light to illuminate the side of the road, so you can see what lurks in the bushes.
Lightforce provides a wide range of lights made and tested for Aussie conditions. 35 years of state of the art research and development, Lightforce have made no compromise on quality and provide a range of lights from driving lights to LED light bars.
-
What's Your Budget?
4WD lights vary massively in price. For example, our spotlights start from as little as $110 for the Thunder 9 LED all the way up to $849 for the Great Whites 220 long distance driving light.
Great White and Lightforce tend to sit at the top end of the scale, and you get tough lights that will last the distance. These lights will come with handy features to make your drive even smoother (even by 4x4 standards!) like tunability to alter the focal length of the bulb and beam angle as you desire.
Bushranger provides the best value for money, with exceptional performance for a middle-range price.
If you're on a tight budget, Thunder is a good option. They're not the fanciest lights but they get the job done and you will get change from $150.
If you're looking for more affordable alternatives, consider exploring the selection of Hulk 4X4 Driving lights. They offer a variety of spotlights and light bars that fit within a budget. You can find more information and browse their products here.
Browse our range of 4WD lights online today!
DISCLAIMER* Please note, this advice is general in nature and we strongly recommend consulting the product manual and where relevant, a professional installer.