Enerdrive is leading the way in 12V products. But who are they? Should you choose them over other brands? Our Enerdrive review has the answers. First things first...
-
Who Is Enerdrive?
Enerdrive was actually born out of another company called Advance Trident Limited, which mainly served the marine industry. Then, in 2008, Australian businessman Chris McClellan led a management buyout and changed the name and direction of the company.
This was the beginning of Enerdrive as we know it today. McClellan's background was mobile power for boats and caravans, and his passion gave the business the direction it needed to become a leading supplier of independent power products.
As well as sourcing world-class products from companies like Delta Q, Morningstar, Blue Sea Systems, TBS Electronics and Xantrex, Enerdrive now designs and manufactures its own line of independent power products. This includes its eLITE & ePRO battery monitors, Dual Battery kits, Magnasine Inverter Chargers and ePOWER battery chargers.
-
But what's really exciting is how the company is at the leading edge of lithium battery systems in Australia, something that will surely fuel its growth in years to come.
-
How Is Enerdrive Leading The Way?
The Masters Of Lithium
We love a company that takes charge ('scuse the pun) when it comes to innovation. And that's exactly what Enerdrive is doing with lithium batteries. They've spent a decade researching, designing and testing lithium batteries and charging systems.
Why lithium? Put it this way, lithium technology is a super-efficient and lightweight portable power source. Lithium batteries boast lower discharge rates, faster recharging and a greater charge cycle life (around 3 times that of AGM batteries).
This makes them a great choice for hardcore off-road campers and extended periods off the grid. In fact, off-road caravans can shed up to 100kg by using smaller and lighter lithium batteries.
All Enerdrive's lithium batteries include a battery management system, which is designed to monitor and optimise each Prismatic cell within the battery during normal operation. This protects the battery pack from over charge, over discharge, over temperature and short circuit.
-
Innovative Technology:
Enerdrive are known for their leading and ground breaking technology, regularly setting new standards for electronics in the 4x4 and caravan RV market. In 2020, Enerdrive released their new canopy systems, which include four compact power solutions designed to operate all of the electrical equipment located in the back of 4WD's. This type of technology has never been done in the market before!
These pre-wired systems are built in a unique compact box and are designed to sit against the front or rear of the vehicles canopy. Customer's also have the choice between the driver or passenger side installation (and some models also have the option for roof mount installation) upon ordering.
Any brand or type of battery are suitable with these systems including Gel, AGM, Wet Sealed and Lithium! Best of all, three of the four systems can be customized with three different battery monitor options (talk about flexibility!).
Let us introduce you to the four systems:
1. The Explorer:
The Explorer is a suitable option for consumers who only require minimum power in their setup. The package includes:
-
2. The Traveller:
The Traveller is a suitable option for consumers requiring a higher level of power with AC charging ability. This system comes with all of the components in The Explorer plus the following:
3. The Adventurer:
The Adventurer is the ultimate power system for 4WD canopies! It includes all of the components in The Traveller plus the following:
-
4. The Lackey
The Lackey is a tradie power system perfect for on site power. The system includes:
Shop the entire Enerdrive 4WD Canopy Range here!
We also have to make special mention to the Enerdrive eSYSTEM DIY Boards, which are designed for the DIY handyman! These boards also come pre-wired and are mounted on a 12mm black plastic, water and rot resistant board.
Enerdrive have created six different variants with different components (from basic AC & DC charging, right up to kits with this plus an inverter and individual charge/load monitoring), layouts and sizes to fit every application!
-
High Quality Comes as Standard
Enerdrive's lithium battery set-ups are built to last. All components are designed to work together and are supplied and warranted by the brand. As of 2020, Enerdrive even offers a huge 5 year warranty on all of their products (excluding Xantrex)! And it's not just their batteries – everything is made to the highest quality.
-
Something For Everyone
Enerdrive may have started with marine solutions, but they now specialise in power solutions for Caravans, RVs, 4WDs, yachts and remote locations that need off-grid power.
You can get 12V, 24V and 36V options, batteries, battery chargers, solar panels, inverters, solar charge controllers, battery monitors and more. In short, there's something for every rig.
The products are so popular that the Enerdrive ePOWER 12V 40A DC to DC Battery Charger is the bestselling DC to DC battery charger on the market!
-
Easy Does It
Enerdrive gets it, they know that not everyone knows how to wire up systems to get the best power solution for their vehicle.
That's why they offer installation kits that include everything you could possibly need to install your battery/charger/solar panel.
Enerdrive also bundles up batteries and battery chargers into value packs that work out cheaper than buying them separately. And we love a bargain...!
-
Getting Smart With It
Ever wanted to monitor the status of your battery in real time? Enerdrive has created a Smart Phone Monitoring System that does exactly that. The app lets you monitor a ton of important stats, including the Battery Capacity, Battery Voltage, Individual Cell Voltage, Battery Current (Amps) and much more.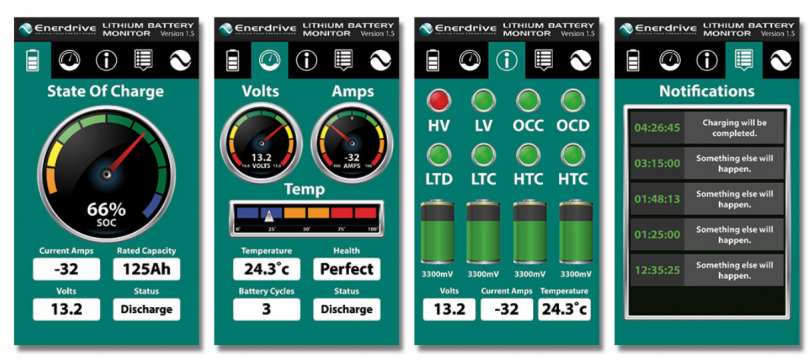 -
What Do Our Customer's Say?
-
Why You'd Choose Another Brand Over Enerdrive
Despite the positives in our Enerdrive review, every brand has its drawbacks. Here are a few you should consider when weighing up brands:
-
Our Enerdrive Review Verdict
As our Enerdrive review has shown, if you're looking for high quality, innovative power solutions from a trusted brand, you can't go past Enerdrive. Check out our Enerdrive product ranges online today.
Looking for an Enerdrive product to suit your needs? Give one of our product experts a call on 1300 400 122!
-
DISCLAIMER* Please note, this advice is general in nature and we strongly recommend consulting the product manual and where relevant, a professional installer.