Caravan adventures are made even better when you know you have a shower to come home to after a long day exploring. Even knowing that you have running water available from your kitchen tap can make a huge difference to your experience on the road.
That's why you need a caravan water tank and pump.
The reality of caravan life is that a freshwater and grey water tank are essential if you want to enjoy basic creature comforts wherever you roam.
Our Caravan Water Tanks and Pumps Buyer's Guide tells you what you need to know.
Which Caravan Water Tank?
Before you open your wallet to buy a tank, there are three things you need to consider.
1. Type Of Water You Are Storing?
This is the first and most essential question because it will determine which type of tank you buy.
A fresh water tank stores clean water for showering, washing, doing the dishes and so on.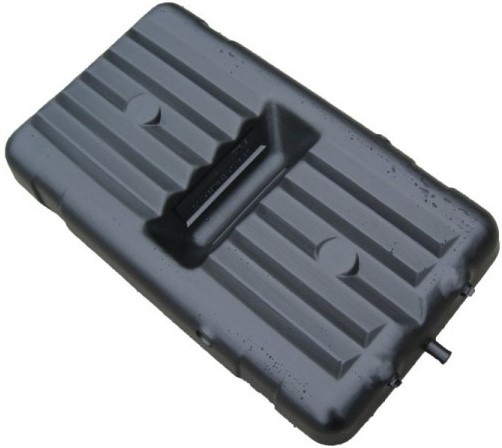 A grey water tank is where all that freshwater goes once it's been used in your sink or shower (but not your toilet - that's a whole other system!).
2. How Much Water Will You Need?
To work out what size tank you need, think about how much water you will use.
Consider a bigger tank if:
You're travelling for longer.

You're going off-grid, away from clean water sources.

You're travelling in a big group - more people means more showers!
To help work out how big your caravan water tank should be, here's a good rule:
22-litre water tank - two people for around 2 days (or 5 days for one person).

30-litre tank - four people for around 2 days (or 7 days for one person).

100 litres - two people for almost 2 weeks.
Just remember, the bigger the tank, the heavier the load. Each litre of water adds 1kg to your caravan's weight.
3. What Size Tank Will Fit In Your Caravan?
The easiest place to store your caravan water tank is underneath your van. Then, it's out of your way and still easy to access. The best part is, if you want multiple tanks, you can disperse them evenly under your van so it stays balanced.
These days, most tanks come with fittings to help you install your tank. You can also buy tank accessories to suit your installation needs.
If underneath your van is not the best place, consider a portable tank on wheels, like this 40l tank by Weisshorn.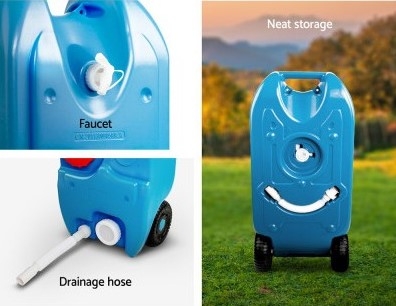 At My Generator, we offer a wide range of water tank sizes so you can make sure your caravan has enough water for your adventures.
Which Brand Caravan Water Tank?
There are lots of brands to choose from. Some of the most popular models include Roto and Weisshorn, in addition to Camec and Fiamma.
Here's why they are popular with caravanners:

Roto Caravan Water Tanks:
Roto are an Australian made tank, manufactured with food contact approve resin. They are available in 55 litre, 61 litre, 70 litre and 84 litre options. Roto water tanks have mounting brackets available as an accessory. They come with a one year warranty.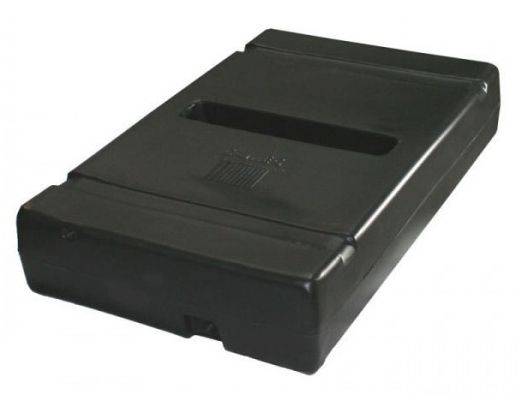 Weisshorn Caravan Water Tanks:
The Weisshorn portable water tank features a high density food grade polyethylene material with an anti-scratch mat finish to protect against harsh scrubbings. They come in a 40 litre capacity and are easy to clean and operate, as well as coming equipped with wheels for easy transportation.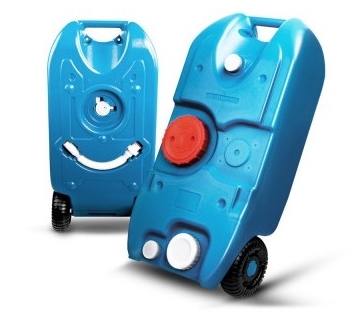 Camec Caravan Water Tanks:
Camec tanks come in convenient sizes, like the 59 litre and 82 litre tanks, and are made from non-toxic polyethylene plastic, which is tough and 100% food grade making it ideal for drinking water. They are lightweight and well-designed for installation on most caravan types and sizes.
Fiamma Caravan Water Tanks:
Fiamma offers a 40 litre and 70 litre tank, which means you can store plenty of water for longer or shorter trips. The tanks are made from non-toxic materials. The 70 litre tank can be installed either vertically or horizontally. As a bonus, it comes with a 38mm inlet and all necessary fittings for installation. For a great portable tank solution, the 40 litre tank is on wheels and easy to store thanks to a slimline design.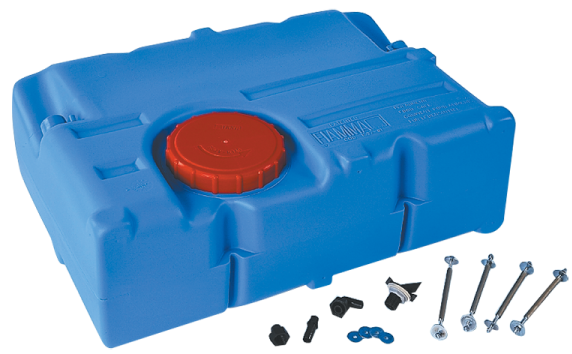 Caravan Water Pumps
How do you get your water from your tank to your tap? That's where you need a caravan water pump.
There are lots of 12V caravan water pumps on the market, so make sure to look for one that will run reliably, deliver the right water pressure, operate quietly and - of course - meet your budget.
Start by asking these questions:
What Voltage Should A Caravan Water Pump Be?
Most popular caravan water pumps are 12V, which is ideal for your caravan.
What Flow Rate?
To work out the flow rate, count how many taps are in your caravan. You don't want to have to turn off the tap everytime someone uses the shower. Ideally, you want both to be able to operate at the same time without affecting the water pressure.
Flow rate is measured in litres per minute (L/min) or gallons per minute (GPM). The higher the flow rate, the higher the water volume the pump will deliver per minute.
You don't always need a high flow rate though, as it can simply waste water and money. Try to find the right balance for your caravan set up:
Single tap: Look for a caravan water pump with a flow rate up to 9 L/min.
2 water outlets: If you have a kitchen tap plus shower, look at how many litres per minute each outlet delivers i.e. the flow rate. Add up both amounts and buy the pump to match. This should be around 9 to 12 L/min.
3-4 taps: You're gonna need a bigger pump! Start looking for a 15-17 L/min flow rate.
How Much Pressure?
The next important factor is pressure. This is rated as PSI, which stands for pounds per square inch.
Check the pressure allowance of your hot water system, if you have one, to ensure any pump you buy doesn't exceed this. You don't want your pump to pull more water than the system can handle.
Which Brand Water Pump For Caravans?
There are three top brands we recommend:
Shurflo:
Shurflo offers caravan water pumps that are great if you want high flow demand with smooth flow. Another great feature is that they operate quietly and have no rapid cycling. We sell a wide range of Shurflo water pumps, so it's easy to find the flow rate you need.
Seaflo:
Seaflo knows how to make reliable water pumps for RVs. There's a wide range on offer, but we can't go past Australia's quietest RV water pump, the Seaflo RV Supreme. This model comes with 55psi and 9.5LPM complete with filter and fittings - what could be easier?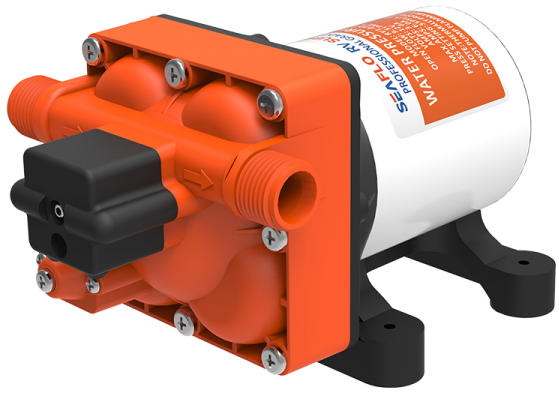 Flojet:
Want a high pressure pump for your caravan? Check out Flojet. The Triplex Pump is advertised as the most reliable, advanced pump on the market for caravans. The unique three chamber design means you get exceptional pressures and flow rates on demand.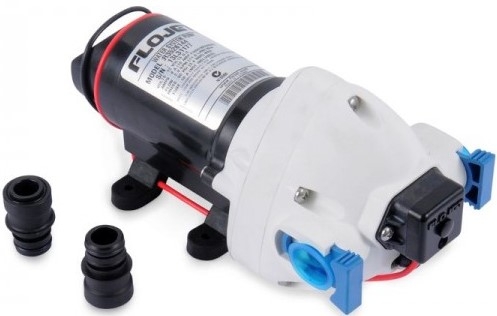 Pro Tip: Don't go bigger than you need! A larger water tank means more weight, and a water pump that's too big will only damage your hot water system.
-