Honda just added a new generator to its line-up: the Honda EU22i. Here's how it compares to the legacy model Honda EU20i.
If you're planning to upgrade your generator, or are in the market for something new, Honda has just made the decision even harder with its new Honda EU22i.
So, what's new? Here, we compare it to the ever-popular Honda EU20i to see how they match up:
Size:
Physically, both the Honda EU22i and EU20i appear to be the same size. But look closer and there are some noteworthy differences. The Honda EU22i actually has a larger 4-Stroke GXR120 engine for a maximum output of 2200 watts. That's 10% more power than the EU20i - enough for an extra bar fridge.
By comparison, the Honda EU20i uses Honda's 4-stroke GX100 engine for a maximum power output of 2,000 watts and rated output of 1,600 watts.
The Parallel Connection is a favourite feature of the Honda generators, so you'll be happy to hear that they haven't done away with it for the Honda EU22i. You can still use a cable to link two EU22i models and get close to double your output.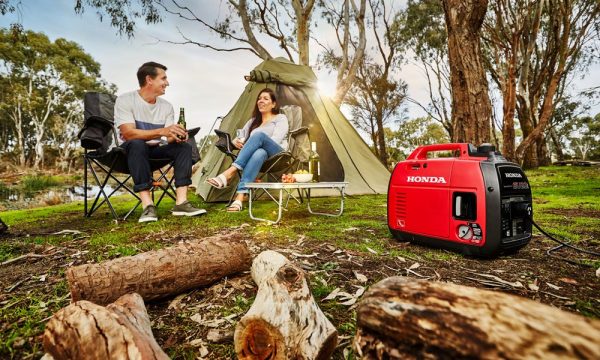 Fuel economy:
Both generator models have a built-in Eco Throttle which adjusts the engine speed to meet the load demand. As a bonus, this feature also reduces generator noise, as the engine doesn't run at full capacity unless needed.
This means, with a 4-litre fuel tank, the Honda EU22i can run for up to 8 hours continuously if the Eco-Throttle is switched on at 1/4 output.
If you're looking for a similiar generator with better fuel efficiency, check out the Yamaha EF2200IS 2200W Inverter Generator. This generator runs for an impressive 10.5 hours at ¼ load and has a fuel tank capacity of just 3.6 litres! This is a whole two hours extra run time compared to the Honda EU22i.
Start-up power:
At 2200 watts, the Honda EU22i has a higher start up output than its predecessor - great if you need to start up power-hungry caravan air-con units (although note that some Caravan A/C units will still need a little more start up power in hot conditions - consequently we often recommend a 2400w inverter generator to many Caravan owners).
Inverter:
No changes here. Both the Honda EU22i and the EU20i feature a microcomputer-controlled sinewave inverter. This guarantees commercial-quality electricity, so you can confidently use the generator to power frequency sensitive electrical equipment, such as computers.
Weight:
When it comes to portable generators, Honda knows how to pack maximum power into compact machines. By using their own high-speed multi-point alternator integrated into the engine, Honda reduces the overall weight and size by as much as 50% compared to similarly classed models. As a result, despite the extra features on the new model, both the Honda EU20i and EU22i weigh in at 21kg.
Safety:
Honda has added a few handy details to the new design, which make the EU22i more user friendly. The Honda EU22i features a vented cap which is a different colour to the rest of the unit. This small detail makes it easier to remember to vent the cap to the "on" position when you're running the generator.
It also has special "run dry switch" that lets you run the generator out of fuel before you put your Honda EU22i into storage for a while.
In both models, the engine is protected via low oil alert system. But the new Honda EU22i has a larger oil filler for improved draining and catching of oil.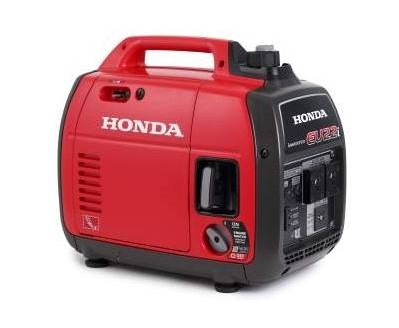 Longevity:
Another handy detail in the Honda EU22i, which is lacking on the EU20i, is the metal reinforcement around the recoil starter handle. This is designed so that even the most heavy-handed users won't damage the unit when pulling the cord.
Price:
Now lets be honest, price does effect our purchasing choices - especially when we are dropping a few thousand on a generator! So lets compared the price of the two Honda models:
Honda EU20i: $1,899
Honda EU22i: $2,099
Now we have an insider tip:
If you're looking for a cheaper alternative then check out the Briggs & Stratton 2400W Inverter Generator. This generator is as high quality as the Honda EU22i and has as many features but will save you almost $800!
Check out our full comparison of the Honda 2200w Generator VS Briggs & Stratton 2200w Generator here (Please note, the Briggs & Stratton 2200W generator is now superseded by the 2400W above).
Verdict:
The Honda EU20i has held long been one of the world's best-selling recreational generators, and it's easy to see why. But with the smart user-friendly design and extra 10% power, the Honda EU22i will likely take its place at the top.
Any downfalls?: The Honda EU22i is a great generator but is up there in price. Alternatively checkout the Cromtech outback 2400w inverter generator for a budget friendly option if you're not interested in spending circa $1,800. The Cromtech option well set you back less than half of that.
Compare the Yamaha EF2200IS vs Honda EU2200i Generator here!
-
DISCLAIMER* Please note, this advice is general in nature and we strongly recommend consulting the product manual and where relevant, a professional installer.