If there's one thing you can't do without on your camping trips, it's a good camping stove or BBQ. You've come back to your campsite after a long day exploring, fishing or four-wheel driving, and all you really want is a good hearty meal. That's where a camping stove or BBQ proves its worth.
Whether you're looking for the best camping stove and grill combo, the best 2 burner camping stove or a small BBQ, read on.
We've got the lowdown on the difference between camping stoves and BBQs, plus we reveal the best ones on the market.
-
What Is The Difference Between A Camping Stove And A Camping BBQ?
Most people use the terms interchangeably, but there is a difference between a camping stove and BBQ.
A camping stove refers to a portable cooker that has burners - like your gas cooktop at home - so you can heat pots and pans easily. A great example of a camping stove is this Dometic Portable Gas Stove with two burners fuelled by LPG gas.
-
A camping BBQ refers to a portable grill or hot-plate that you can throw snags and fish straight onto, like your BBQ at home. Check out this Portable Charcoal BBQ Grill from Grillz. It comes with lots of cooking space over a chrome-plated grill, and because it uses charcoal or wood, you are guaranteed a real BBQ flavour.
-
Which Is Better?
It really depends on the type of cooking you want to do. If you want to make a gourmet feast of pasta and sauce, a camping stove will do the trick. You can get your coffee pot stewing while you fry up eggs and toast for brekkie.
If snags in bread is more your style, go for a camping BBQ. What better way to grill up the fish you just caught?
-
But our advice is to look for something that can do both. Check out the combi camping stove/BBQs that offer both in one. The Gasmate Travelmate II Deluxe Twin Butane Stove comes with a cast aluminium hotplate. Simply put the hotplate over the two burners to grill your food.
-
What Type Of Fuel?
One of the most important factors to consider before purchasing a camping stove or BBQ is which kind of fuel it burns.
The most common type of camping stove uses gas canisters (isobutene) as a fuel source. Canisters are lightweight, compact and easy to use, plus you can buy them from almost anywhere. The downside is they don't work well in extreme cold.
Liquid fuel is another type of camping stove. These use a larger gas/liquid fuel canister which you can refill. It's more versatile and cheaper than canister gas stoves if you're using it often or for long periods. But they tend to be much heavier than butane camping stoves.
Lastly, you can find alternative fuel camping stove options, which could be alcohol or wood. Alcohol stoves are a good option for hikers because the fuel is cheap and stoves are light. Wood stoves can be very convenient as you don't have to buy the fuel, bit they can be banned in some areas.
The Front Runner BBQ/Fire Pit & Wolf Pack Pro Kit is a great addition to your camping set-up. Manufactured with high strength steel the BBQ/Firepit will keep you warm in winter and provide a cooking space all year round. Paired up with the Wolf Pack Pro you can cart your BBQ/Fire Pit anywhere you want to go with extra room for keeping your fire wood dry and ready to burn.
-
How Portable Do You Want Your Camping Stove/BBQ To Be?
The next things you need to consider are weight, size and portability. How portable do you want your stove to be? If you're using it close to your 4WD or van, the weight is less of an issue. You can go big with a Portable BBQ Grill and Smoker.
But if you want to carry your camping stove to a campsite, look for smaller, lightweight options, like the Gasmate Travelmate II Single Black Butane Stove, which comes with a handy carry case too.
-
How Much Do You Want To Spend?
Your camping stove can make or break your trip, so don't scrimp! Think about what you want and how much you're willing to spend.
If you want all the bells and whistles, expect to pay between $200 and $400. For that, you can get an awesome Grillz Portable 2 Burner Gas BBQ with two stainless steel burners, double-layer lid, retractable legs and ignition control knob with an integrated thermostat.
-
For a camping stove that does the job without breaking the bank, you can't go wrong with a Gasmate 2 Burner Stove. It's your easy to use, easy to clean, high output two burner portable camping stove, and comes in at just $60. For just a bit more at $69, you can pack a Grillz Portable BBQ Grill and Smoker - perfect if you plan a spot of fishing!
-
Our Top Brands For Camping Stoves And BBQs
-
Dometic:
After years of supplying top-quality gear for caravans and RVs, European RV accessories giant Dometic has expanded into the great outdoors with its range of gas camping stoves and BBQs.
Designed for car campers, these camping stoves are already popular and it's easy to see why. You get all the features you need with the reliability of a great brand at a good-value price.
Top picks include the Dometic Portable Gas Stove and Dometic CSO103 Portable Gas Stove & Oven.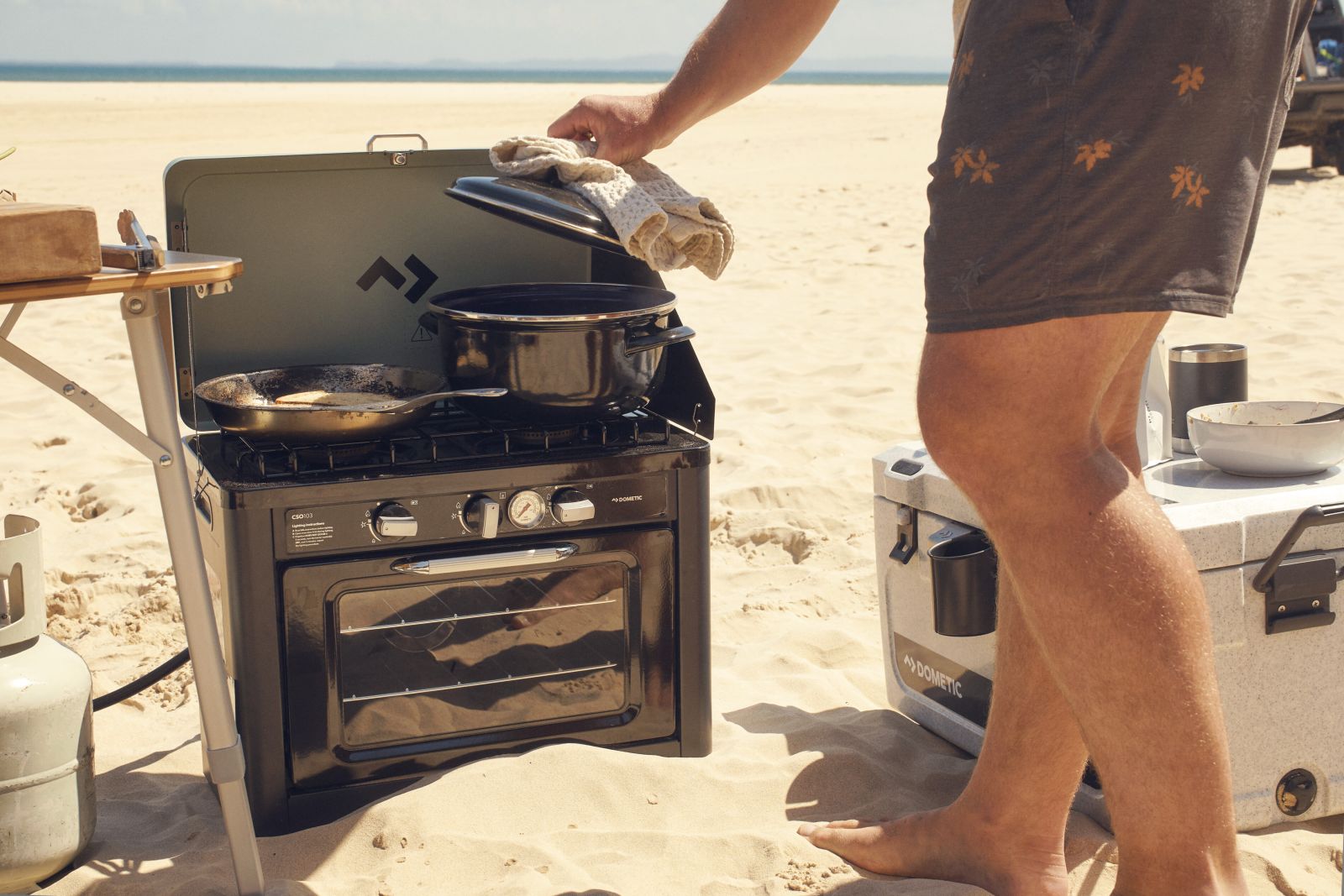 -
Gasmate:
Gasmate is a well-known and trusted brand in the camping stove space. They offer great value for money with a range of portable camping stoves and BBQs that tick all the boxes.
-
Top picks include the Deluxe 2 Burner Stove or the Turbo 2 Burner BBQ Stove for more oomph. Add a grill if you need with the Gasmate 2 Burner Folding Stove with Grill.
-
Grillz:
New to our range is Grillz. The great thing about this brand is the sheer range of camping stoves and BBQs on offer. You can choose from a Portable Gas BBQ, Portable Electric BBQ, and even a Fire Pit and BBQ. And that's not all! Whatever your cooking style in the great outdoors, Grillz has it covered.
-
Compare and shop our wide range of camping stoves and BBQs today.
DISCLAIMER* Please note, this advice is general in nature and we strongly recommend consulting the product manual and where relevant, a professional installer.