When it comes to camping gear, Australians like to find the best. It doesn't matter if we're talking about headlamps, cooking gadgets, camper trailers, GPS technology... we all want a set-up that our camping neighbours will look at with green-eyed awe. So, when it comes to keeping your food and drinks chilled, an icebox just won't cut it. You need the best camping fridge freezer Australia has to offer.
-
Here's the catch - there's no single fridge freezer designed to meet everybody's camping needs. It comes down to choosing the right one for YOU.
To help, we've narrowed down the choices and compiled our list of top camping fridge freezers Australia wide:
-
We're kicking off with a crowd favourite: the Original Bushman Portable Fridge. This fridge can expand from a cool 35-litres up to a roomy 52 litres, depending on what you need. But it's the durability that sets it apart. For two decades, Bushman customers have thrown everything at this fridge and it's still one of the toughest camping fridge freezers Australia has ever known.
Proven to survive in Australia's harshest conditions, this efficient unit can take a knock or two. In fact, we can wager it will last longer than most of your other camping equipment. Plus, it comes with a 3-year warranty for extra peace of mind.
-
Best Small Compact Model
When it comes to camping, space is a premium. Gone are the days of big, bulky and heavy gear. Now we're looking for the lightest, sleekest and most compact camping equipment out there. In Australia, camping fridge freezers are no exception to this rule.
Our pick is the Dometic CFX3 45 Portable Fridge/Freezer 46 Litre. This compressor fridge freezer offers a roomy 46 litres of capacity in a smart, neat unit that will slot into practically any space. With its lightweight yet heavy duty Exoframe exterior it will provide perfect cooling with efficient power draws for the smaller battery packs and systems.
With its easy to read high resolution display and best of all an integrated USB port you can charge your phone while you drive! The Dometic CFX3 45 Portable Fridge/Freezer doesn't compromise on efficiency thanks to the high performance VMSO3 Compressor.
-
Best Value for Money
This was a tough one, but in the end, we opted for the Evakool Down Under 75 Litre Dual Zone Fridge / Freezer which offers 75 Litres of capacity. This is not only reliable, thanks to Evakool's awesome reputation – it comes packed with convenient features, like spring loaded metal handles, easy to read digital display, an internal LED light and the all popular Danfoss Compressor for efficient and reliable refrigerated air.
Having the option to choose between fridge and freezer and with a price tag under $1000 the Evakool Down Under 75 Litre wins hands down.
-
Best For Fishing While Camping
Want to do a spot of fishing on your camping trip? You'll need a fridge freezer to carry your bait and a big haul now and again. Our pick is the Evakool Fibreglass 47 Litre Fridge Freezer. Evakool knows how to make a camping fridge freezer Australia style. In other words, it delivers excellent cooling performance in hot conditions.
This model combines a fully insulated fibreglass design with the world leading Evakool EK25DC Compressor and digital controls. The result is a fridge freezer that can freeze in Australia's hottest conditions, even up to 60°C below ambient. But most importantly, it won't absorb fishy odours and tastes.
-
Evakool also offer their Fibreglass Portable Fridge/Freezer range in a marinised version which has an anti corrosive treatment applied to the internal components in order to protect your investment in marine environments.
Check out the Evakool marinised range of portable fridge/freezers here.
-
Best for Families
When you hit the road with the family, you need a portable fridge freezer that can cope. We're talking a fridge freezer with plenty of room, like the Dometic CFX395DZ. With a massive 94 litres including 39 litres of freezer, this supersedes the most popular camping fridge freezer Australia has ever seen: The Dometic Waeco CFGX-95!
The highlights are the dual zone, dual temperature control, and dual lid. This means you can operate two compartments independently from the other, to suit your family's needs. Both zones can achieve -22°C at the same time, even in up to 32°C ambient temperature.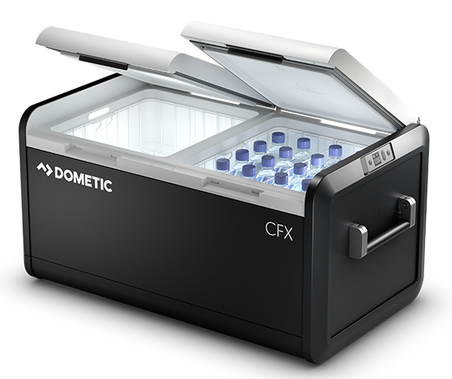 Other top features include the Wi-Fi CFX3 app that allows you to control the temperatures from your smartphone. Handy if you're out exploring when the temperature starts to soar.
-
Our Verdict
We can't tell you the best camping fridge freezer Australia has ever seen. But we can help you decide on the best one for your camping needs. Need more inspiration? Take a look around our website and compare the wide range of portable fridge freezers to find your perfect fit.
-
DISCLAIMER* Please note, this advice is general in nature and we strongly recommend consulting the product manual and where relevant, a professional installer.