When you're in the market for a camping fridge and freezer, it won't be long before people start talking about "dual zone" models.
As the name suggests, a dual zone model has two compartments so it can work as a camping fridge and freezer at the same time. The alternative is a unit you can use as a fridge OR a freezer - but not both at the same time.
The convenience of dual zone units means they have become hugely popular in the Aussie camping world. So much so that many of the latest camping fridge models are dual zone.
But they aren't all created equal. Let's take a look at different types of dual zone models, before revealing the best camping fridge and freezers you can buy.
-
Types of Dual Zone Units:
The main type of dual zone has independent compartments and thermostats so you can control the temperature of the camping fridge and freezer separately.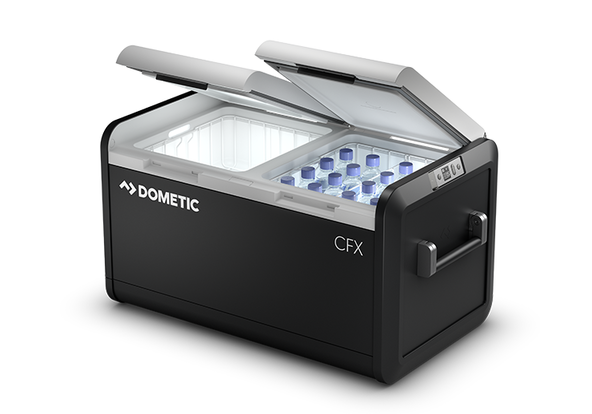 But there's another option which features an internal divider that can be removed to allow the whole unit to be a fridge or freezer. Sometimes, these models work on an 'overflow' method, where the freezer compartment overflow cools the fridge compartment. Either way, the downside is that you cannot control each compartment's temperature independently. We've also heard that the divider can be annoyingly difficult to keep clean.
-
Best Dual Zone Camping Fridge and Freezers:
The Dometic CFX3's are a new range of portable fridge freezers with extensive features and designs. They replace the original, market favourite Dometic CFX range.
They have a robust build for the outdoors as well as the ability to control and monitor the fridge/freezer through a mobile app. The CFX3 range introduces new high-resolution displays, soft touch controls, faster USB charging and Bluetooth functions.
The Dometic CFX375DZ features flexible power options including AC, DC and Solar, the capacity of 113 cans and a lightweight but robust ExoFrame. The compressor cooling technology will also optimize the performance vs energy consumption of the unit. You can even monitor the temperature and performance of the fridge/freezer through the CFX3 app. Read more about the new CFX3 range here.
Need something bigger? Check out the Dometic CFX3 95DZ Portable Dual Zone Fridge & Freezer.
Want something bigger? Check out the humungous 95-litre Dometic dual zone model with all the same cool features:
-
The Evakool TMDZ Travelmate 80 Litre Dual Zone Fridge/Freezer rivals the Dometic CFX3 75 Dual Zone Portable Fridge Freezer. The Travelmate incorporates the world renowned Danfoss compressor technology, which boasts quiet, reliable and efficient operation. It has two temperature zones to suit your cooling preferences ranging from +10°c ~ 20°c.
It's unique lid design allows the user to open the fridge from either sides, or remove the lids completely - meaning now no matter which direction you access the fridge from, you'll be able to reach those cold drinks easily!
Like the Dometic Dual Zone Fridge/Freezers, the Evakool Travelmates are wifi enabled allowing the user to monitor fridge temperature, and voltage straight from the Evakool App!
Evakool offers four different capacities in the TMDZ range; 43 Litre, 62 Litre, 80 Litre and a massive 96 Litre! The two smaller models have a single lid design, while the two larger models feature to separate lids.
Want something different? Check out the entire TMDZ range here!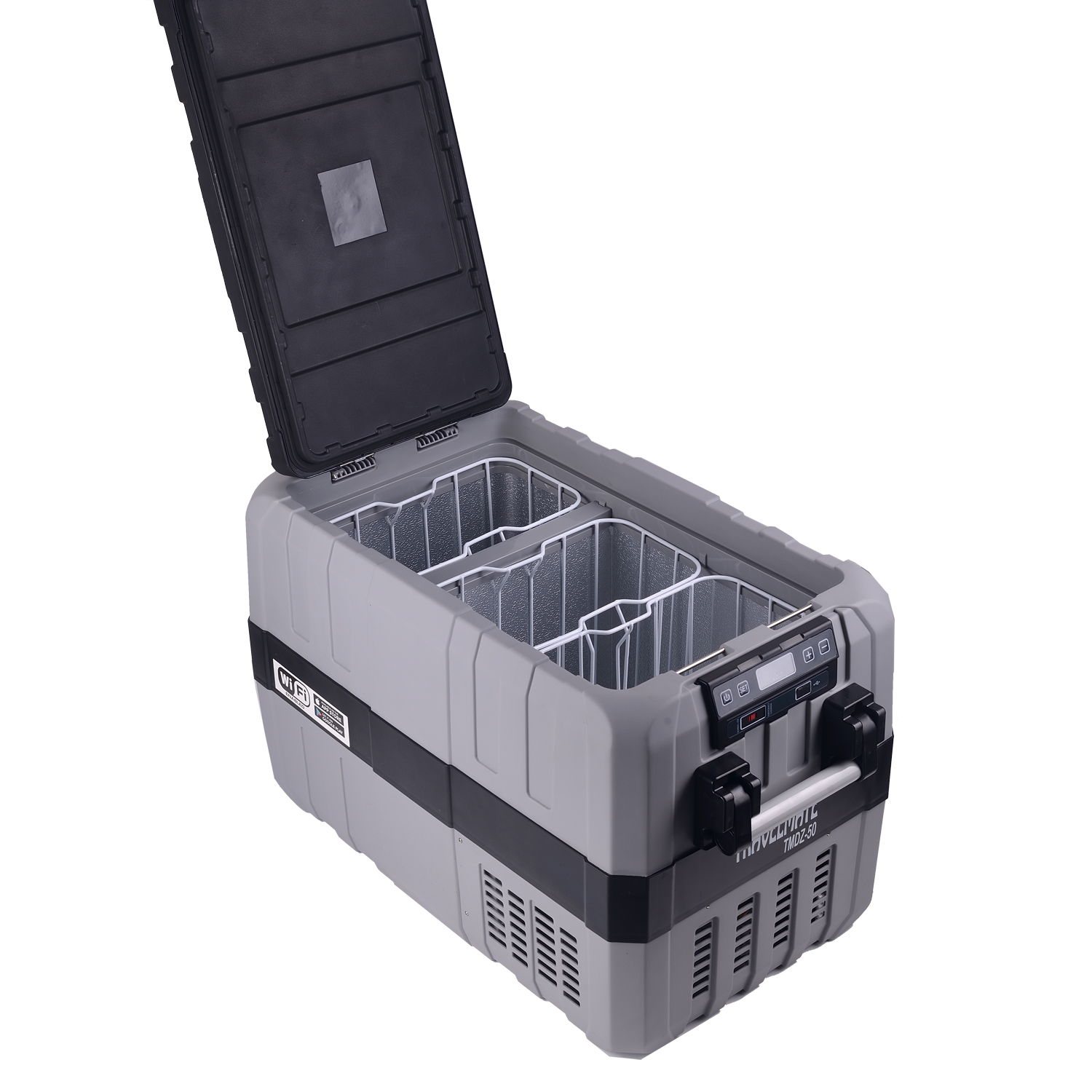 This is the newest dual zone fridge/freezer on the market! The Evakool Down Under 75L dual zone fridge freezer is made from a white powder coated metal cabinet, has a reversible lid design and an easy to use digital display with in-built fault finding system - if you're looking for a convenient and efficient fridge, the 75L Down Under model is for you!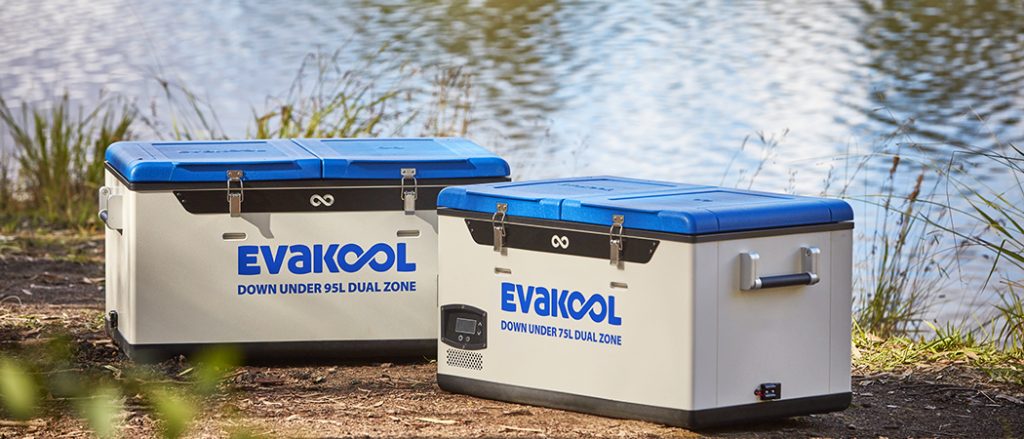 Evakool thought of everything with this fridge; they even designed the cabinet with in-built tie down points so you can rest assured this fridge won't move during your 4x4 adventures!
If the 75L is too big or not big enough Evakool also offer a 47L single zone and 95L dual zone in their Down Under Series. Did we mention this range is manufactured here in Australia on the stunning Sunshine Coast in Queensland?!
-
This Evakool Glacier 74-litre dual zone a top choice for family camping trips for lots of reasons. As with the Evakool and Dometic models above, you have the flexibility to go for a freezer in both compartments, a fridge in both, or a freezer on one side and a fridge in the other. There are dual lids too, so you don't sacrifice the temperature of the freezer when you want to access the fridge.
It features a high-performance Danfoss compressor with easy to use digital controls (some of the easiest we've seen). There are internal LED lights so you can easily grab a snack at night.
As camping fridge and freezers go, this one is also super durable. It's made from powder-coated metal, with fully insulated base, lid and walls. The smooth walls are also really easy to clean.
-
-
What's the Alternative to Dual Zone?
While dual zones are popular with families, not everybody needs a camping fridge and freezer all the time. You might only want a freezer now and again. So why sacrifice valuable fridge space for something you'll only use occasionally?
That's where single tub models come in. These can be used either as a fridge or as a freezer. They're handy if you want to keep your catch frozen after a big fishing trip, or for keeping drinks chilled at an event.
Our picks are the Dometic CFX3 55 and the Engel MT-V45F.
The Dometic CFX3 55 provides 55 litres of cooling capacity, which is great if you're heading out on a bigger trip. Thanks to the powerful VMSO3 compressor cooling technology, it's powerful enough to reach -21 °C in outside temperatures up to 32 °C. Like the dual zone models above, you can also use the CFX3 app to control the temperature remotely. The fridge is built for the outdoors with it's ExoFrame construction and aluminium handles.
The Engel model is a bit smaller if you don't have extra room in your caravan or 4WD. The fridge includes Engel's secret weapon to longevity: the Sawafuji Swing Motor! It is built tough with a metal cabinet, so it can handle any bumps and knocks in the rough outback! Plus it's backed by a 5 year Engel warranty.
Planning for your next camping trip? Browse our full range of camping fridge and freezers.
-
DISCLAIMER* Please note, this advice is general in nature and we strongly recommend consulting the product manual and where relevant, a professional installer.