Planning on spending lots of time in the great outdoors? There comes a moment in every adventurer's life where you need to upgrade from an icebox to a portable fridge. But not all 12 volt fridge models are created equal - some fit your needs for short camping trips, while others are perfect for longer caravan road trips.
Here's our pick of the best 12 volt fridge models for the different types of adventures:
-
Best For Camping: Dometic CFX375DZ
The Dometic CFX375DZ has everything you need for a camping trip! The great thing about this fridge is that it features two separate compartments meaning you can configure them as you like - have both compartments as fridges or both as freezers or have the best of best worlds and have one as a fridge and one as a freezer! At 75 litres, this portable fridge/freezer can hold a huge 113 cans - that's a lot of soft drink (or beer)! Durable and robust, the model runs on a genuine high performance VMSO3 compressor and has a heavy-duty yet lightweight ExoFrame. Strong aluminium handles make this 12 volt fridge easy to transport and it's backed by a generous five-year warranty. If that's not enough, the Dometic CFX395 has all the same features but boasts a massive 94 litres! See the entire Dometic Waeco CFX3 range featuring models from 35 litres up to 94 litres.
Why We Like It?
Operates on 12/24 volts DC or 240 volts AC

Two separate compartments for cooling and freezing in any combination desired

USB charging port

Temperature range of +10 °C to -22 °C to operate as fridge or freezer

Remote monitoring capability on CFX3 app

3-stage battery protection system

5 year warranty
Other options? There are plenty of other good portable camping fridge brands. Check out some of our other favorites from Evakool (Fiberglass material for excellent cooling).
-
Best For Caravan Trips In Hot Temperatures: Dometic WAECO CRX110
When the mercury rises, you need a fridge/freezer you can count on to keep your food and bevvies ice cold. That's where the WAECO CRX110 ticks all the boxes. A spacious 108 litres, this CoolMatic fridge has heaps of room for longer caravan trips. But what really sets it apart is the greater temperature control, reduced noise and enhanced energy efficiency - these benefits mean the WAECO 12 volt fridge is the top pick even in high ambient temperatures. Other highlights include the double lock door, variable door mounts and hinges, and digital control panel. The 108 litre model seems to be one of the most popular sizes, but Dometic Waeco make CRX models from 48 litres up to 140 litres.
Why We Like It?
Performs well in high ambient temperatures

Digital/LED interface and nice interior lighting

Ambient temperature driven Fan Speed to reduce noise

Operates on either 240 volt or 12/12 volt power sources
Other Options? For upright compressor driven RV fridges, there are a range of other quality brands on our website, Check them out HERE.
-
Best For Long, Remote Caravan Trips: Dometic RM2350
Hitting the road for a few months? The Dometic RM2350 is a roomy 3-way fridge/freezer with all the classic features you need. It might boast a 90-litre capacity, but this 12 volt fridge has a slim design to suit all types of caravans. Plus the reversible hinges mean you can choose which way the door should open. Aside from its compact design, what makes this absorption fridge perfect for longer road trips is that it can run on 12 volts, 240 volts and gas. So even if power isn't available, you can still keep your food cool. This fridge will run for weeks on end from just one 9kg gas bottle. Remember, absorption 3-way refrigerators need to be installed and certified by a qualified and licensed gasfitter. Dometic make 3-way fridges from 60 litres up to 220 litres.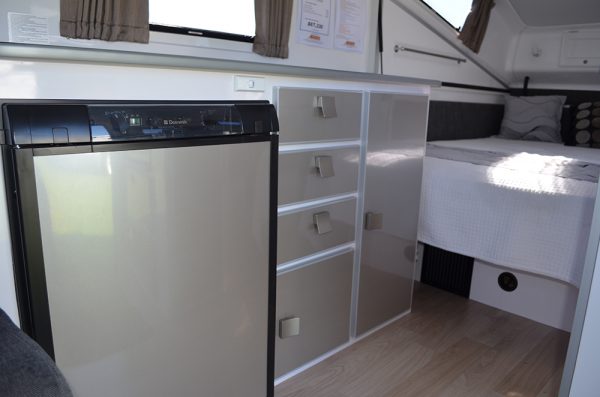 Why We Like It?
Extremely energy efficient when running on gas

No working parts, so longevity is excellent

Dometic have a comprehensive national service agent network

Reversible door (hinge can either be left or right handed)
Just before you settle on a 3 way fridge though: be sure to read our article on 2 way or 3 way Caravan Fridges?
-
Best For Boats & Yachts: Vitrifrigo DP2600X
For marine recreation, you should consider a stainless steel fridge. This is where Vitrifrigo excel - made in Italy and are backed by the Camec national service agent and spare parts network. The DP2600X is a Stainless Steel 2 Door Fridge & Freezer with 230 litres of capacity. This unit has a flush mount surround for ease of installation and also has the marine standard 'Nautic' catch system as standard equipment. The refrigerators with internal cooling units are easy to install because the cooling unit is mounted directly onto the refrigerator cabinet. Vitrifrigo have a range of stainless steel 12 volt fridges popular for boats and yachts ranging from around 60 litres to 220 litres in size.
Why We Like It?
Stainless Steel finish

Super Silent operation

LED light in Freezer and Fridge Reversible hinge

Made in Italy to very high standards
-
Best For Fishing: Evakool RFE60-FF
If you're looking to keep the day's catch cold without the worry of smells and flavours being absorbed by your fridge, the Evakool RFE60-FF is hard to pass up. The RFE60-FF combines Evakool's fully insulated fibreglass cabinet with their world leading Evakool EK25DC Compressor.
The unique design of the Evakool Fridge Freezers offers you the flexibility to adjust the capacity of both the fridge and freezer compartments. It is up to you if you want to run it as a fridge, or as a freezer! Evakool have a spectacular line up of fridge freezers in varying sizes.
Why We Like It?
Heat resistant fibreglass

Smooth walls, hygienic, and easy to clean

Silent operation

Proudly Australian made

Evakool offer the Fibreglass range in marinised versions, which have an anti corrosive treatment applied to the internal components in order to protect your investment in marine environments.
-
Best For 4WD Canopies: Evakool 40L Drawer Fridge/ Freezer
Choosing a fridge for the back of your 4WD can be difficult – you could choose an upright fridge, a drawer fridge or even a portable! Each option has their pro's and con's but we can't pass up the Evakool 40L Drawer Fridge, Freezer.
This convenient and practical drawer fridge is the perfect solution for your 4WD setup. It boasts a spacious 40L capacity and allows you to install in the back of your 4WD without the need for a fridge slide. With the SECOP compressor the fridge can be run on fridge or freezer mode making it a versatile option for your camping needs.
Install two drawer fridges and have double the room with the option of both a fridge or freezer.
Why We Like It?
SECOP PBC 2.5 Compressor

12/24V

Lockable drawer latch

East to read LED display

Eco and turbo mode

A two year warranty
Want to know more about 4WD canopy fridges? We break it all down in the upright vs portable debate.
Need help selecting a 12 volt fridge for your adventure? Check out our range online HERE, or call our experts on 1300 400 122.
-
DISCLAIMER* Please note, this advice is general in nature and we strongly recommend consulting the product manual and where relevant, a professional installer.