Yamaha is the preeminent brand in portable generators worldwide. Their designing, testing and manufacturing is unmatched, thanks to 50 years of global engine experience. Drawing on research and expertise from their world leading Motorcycle, Jet Ski and All-terrain Vehicle products, Yamaha portable generators are the lightest, quietest and most fuel efficient in the market.
The acclaimed Yamaha Inverter Generator range uses their patented Noise Block Sound Reduction System with intake silencer and sound absorption design, delivering whisper quiet generator operation. Each of the Yamaha Inverter models use Smart Throttle Technology which automatically adjusts the engine speed in accordance with the load required, making their generators the most fuel efficient and longest lasting.
Designed for versatility, the Yamaha range is the best generator choice for; caravanning, four-wheel-driving, camping, fishing, DIY tasks, trade applications, mobile business uses, events, and domestic or commercial back up during mains power outages. Accompanied by a 4 year warranty and backed by a national service network, you can trust in the quality of Yamaha inverter generators for long lasting reliable and super quiet operation. Check out the videos at the bottom of this page from customers and product experts alike reviewing the Yamaha generator range.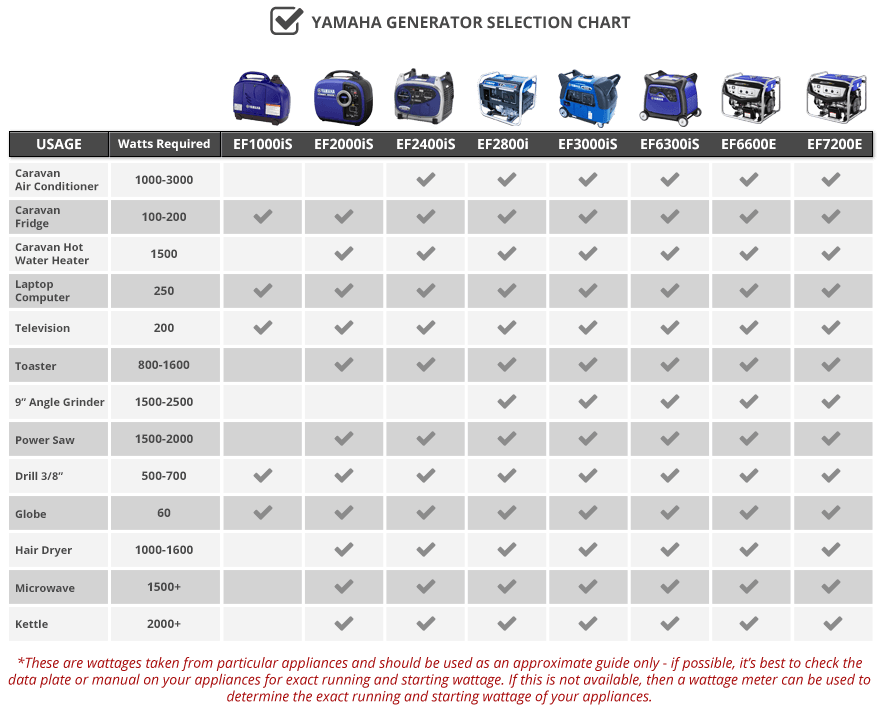 CUSTOMER VIDEO REVIEWS OF YAMAHA GENERATORS:
Customer Video Review_Yamaha EF2800I_Mike, Beaconsfield Upper , VIC
Customer provides a product review of the Yamaha EF2000IS
Customer demonstrates connecting 2 x Yamaha EF2000iS generators and provides a wattage test
Customer shows how to change the oil on a Yamaha EF2000iS Inverter Generator
Out of the box video for the Yamaha EF2000iS Inverter Generator
EXPERT REVIEWS OF THE YAMAHA GENERATOR RANGE:
Features and Benefits of the Yamaha EF1000iS Inverter Generator
Features and Benefits of the Yamaha EF2000iS Inverter Generator
Features and Benefits of the Yamaha EF2800i Inverter Generator
YAMAHA GENERATOR BRAND VIDEOS:
Top 5 checks for maintaining your Yamaha Inverter Generator
Yamaha Generator safety tips
Yamaha Range (NOTE: American models shown in product video)
Yamaha v The Competition (NOTE: American models shown in product video)
-