What is a portable camping fridge/freezer?
Let's start with the basics – Portable Camping Fridges are (as the name suggests), fridges that are fully mobile. This means the fridge isn't permanently installed into your caravan, car or boat, but can be moved in and out to keep your food and drinks cold wherever you are. This means portable fridges are the ideal piece of travel gear for camping, boating, fishing, 4WD trips, road trips, caravanning and more. In fact, anywhere that space is at a premium and you want to keep things cool.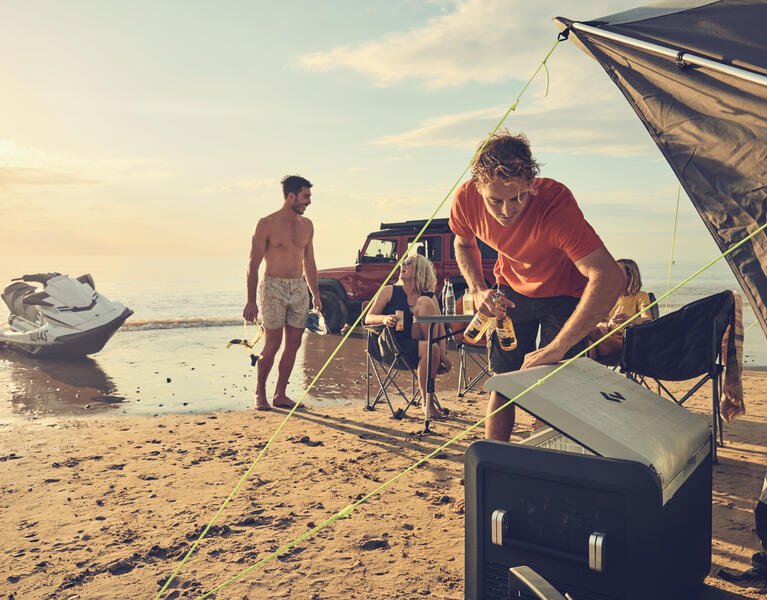 Today's portable camping fridge the ideal piece of travel gear for camping, boating, fishing, 4WD trips, road trips, caravanning and more.
What types of camping fridges are there?
There's more choice of camping fridges than ever before. Most have a chest fridge design, so they open from the top, making it easy to find what you need. Some less common ones are like traditional Upright Fridges and open with a door on the front.
The majority of camping fridges are 2-way compressor fridges, which use a compressor to cool the interior, like your fridge at home. The other option is a 3-way fridge (or absorption fridge), which can run off three different types of power sources…which brings us nicely to:
How do I power a portable fridge?
Portable camping fridges need a power source to work. Probably the most common type of camping fridge-freezer is a 2 way compressor fridge which can run on either 240 Volt mains power or a 12/24 Volt power source. They are typically very efficient and draw less than 100 watts.
A 3 way absorption portable fridge can run on either 240 Volt, 12/24 Volt, or your gas bottle. Whilst still available in portable models, this type of fridge is more popular for upright caravan fridges fixed into the kitchen of your recreational vehicle. These types of camping fridges are very efficient when running on gas, not as efficient when running on 12/24 volts compared to a 2-way fridge.
Overall, the most common way to power Camping Fridges is via a 12/24 volt source from your camping / auxiliary batteries. This especially the case when free camping and mains power is not available. Campers can charge their batteries when their vehicle is running, from solar panels, or charge them via a generator and battery charger. It's a nice feeling to be camping in a quiet space, completely self-sufficient with power so you can keep your camping fridge running easily!
Which size camping fridge should I choose?
Like normal fridges, camping fridge sizes are measured in litres. They start at around 10 litres and go up to models of almost 100 litres in size! Upright fridges in your Caravan/Motorhome can go even larger than this.
The trick is not to choose a fridge that is far bigger than you need, as you will only end up wasting power on empty fridge space. The best way to choose is to look at what you're going to use it for on a regular basis. Will you just want to chill a few beers, or do you need to keep food fresh for the whole family?
What about a freezer?
Most camping fridges can also be used as freezers – be sure to check the model specification on the camping fridge for sale. The models with freezer capability have a temperature range down to minus 18 degrees Celsius (or more). The popular Dometic CFX3 Fridge Range can reach minus 22 degrees Celsius.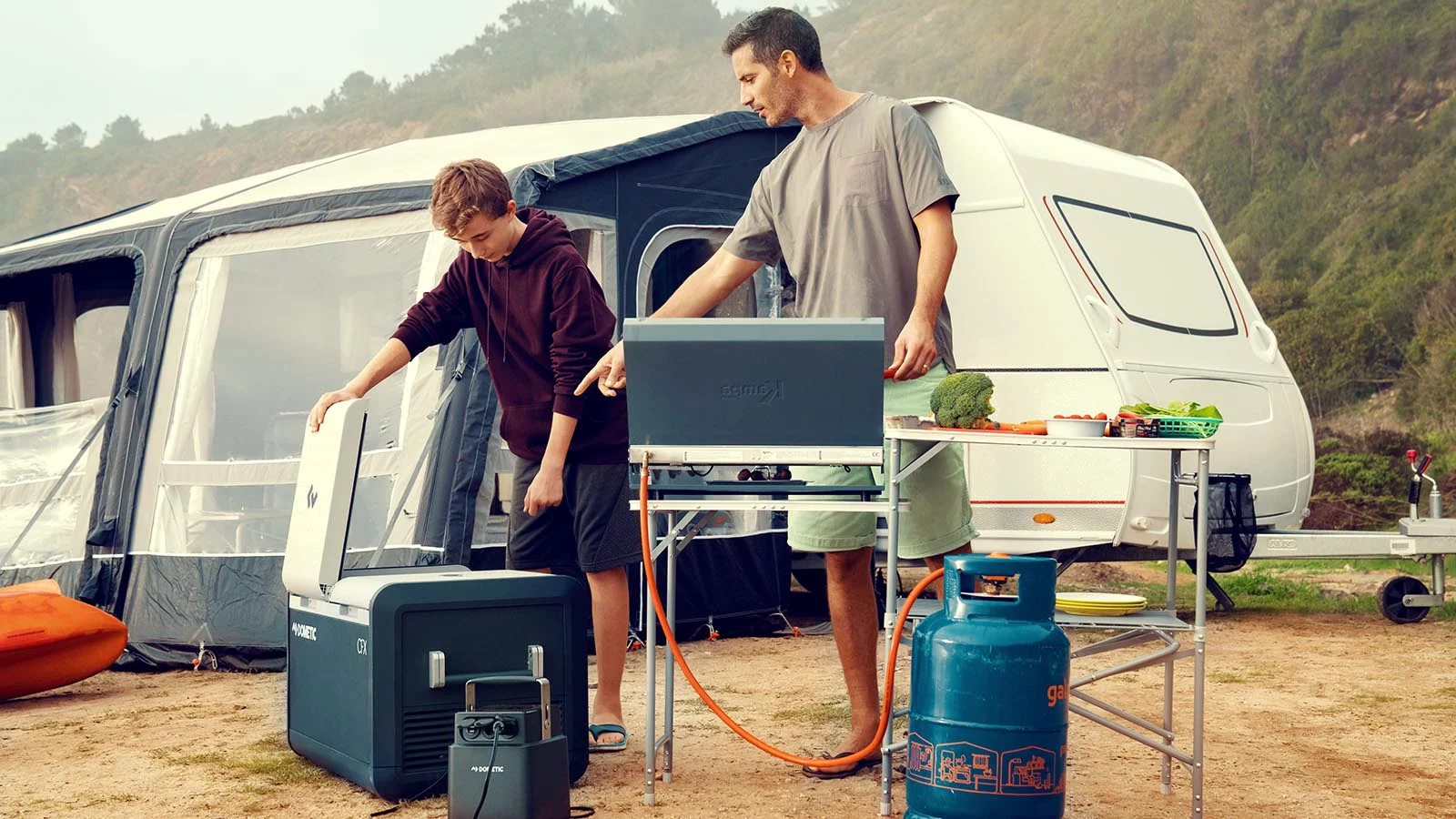 You can take your camping fridge with you to remote, un-powered locations and run your fridge from 12 volt battery power source or a portable generator.
Some camping fridges let you use it as either a fridge or a freezer, while others can run as both a fridge and freezer at the same time. These are known as Dual Zone or Combi camping fridges because they contain separate compartments.
Camping Fridge Freezers: The Best Dual Zone Models
-
What do I need to spend?
It totally depends on what you need. Camping fridges vary in price from as little as around $175 for a basic cooler up to almost $2,000 for a mammoth portable fridge with all the extras. For example, for just under $2,000, you can get the Dometic CFX395DZ – a 94 litre dual zone portable fridge/freezer with a USB charging outlet for mobile phones and tablets, a dedicated smartphone app, WiFi connectivity and more. This is the bees knees of camping fridges!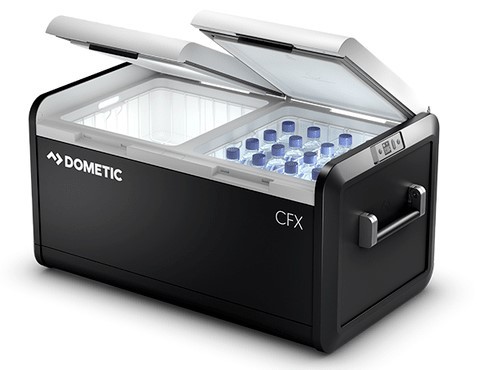 The Dometic CFX395DZ has two compartments that can each operate independently in any combination as fridges or freezers
If you're looking for a something a little cheaper and don't need all the bells and whistles, then check out the Evakool Down Under Series I & II range! The Down Under range offers both single and dual zone fridges, starting at 47 litres right up to 95 litres! Best of all, all of these fridges come in at under $1,599!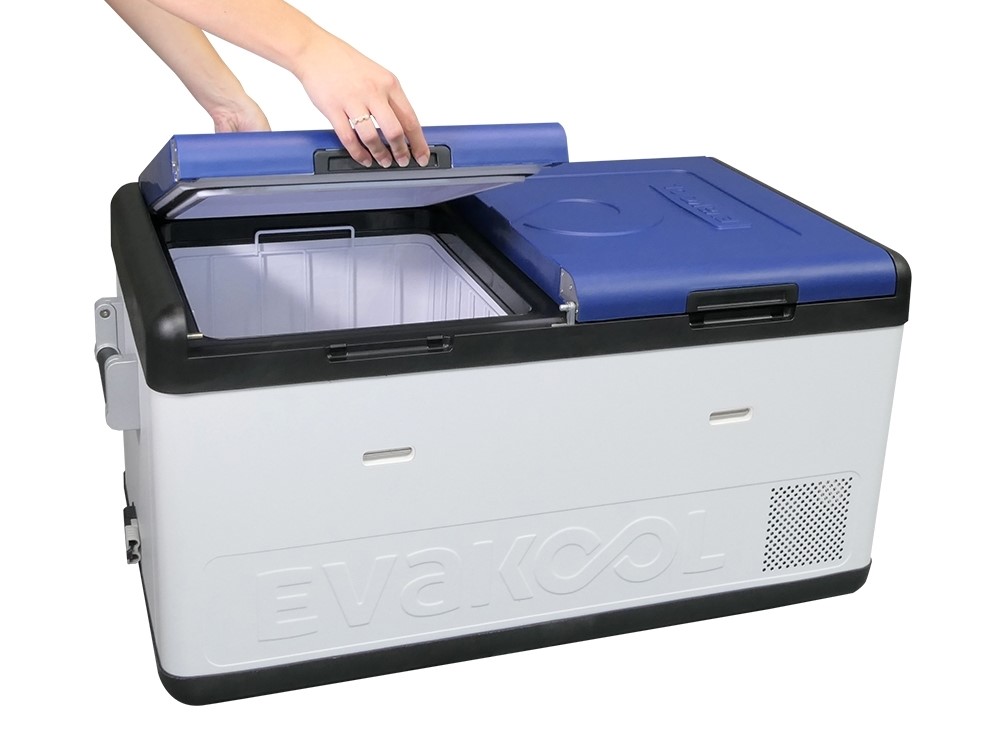 What are the best camping fridge brands?
Great news, we only offer premium brands so no matter which you choose, you know you will be getting a high quality fridge! Choosing between the brands is dependant on what is important to you - Do you want a fridge with all the bells and whistles? Do you want value for money? Do you want a fridge for the outback? Check out our video below to see which brand is the best for you!
Best Camping Fridge Brands
How long do camping fridges last?
Again, it depends on what you buy and how well you look after it. Most fridge manufacturers offer a two or three year warranty, whereas the Dometic CFX3 camping fridges come backed with 3 years full warranty + additional 2 years (5 total) on the compressor parts. If longevity is a consideration, we recommend you opt for a premium brand such as Waeco, Engel, Evakool or Camec – all these guys back their fridges with solid warranties and importantly have national service agent support and spare parts networks.
Browse our full range portable camping fridge/freezers for more ideas.