Whether for serious cleaning at home or on a trade site, it's hard to go past a pressure washer powered by a Honda engine. With best in class performance backed by decades of reliability and a huge service agent network, a Honda pressure washer blows away the competition.
But how do you know which Honda pressure washer to choose?
Before you start comparing features, there's one crucial thing to check: make sure the brand you opt for is using a genuine Honda Australia approved engine. Not an import or a fake. There are plenty of impostors out there (affectionately known as a 'Chonda') which are just copies or grey imports. Part of the reason you pay good money for a Honda is not only the engine's performance, but the service agent support network you get - if its not a genuine Honda, it won't be backed by authorised service agents for spare parts or warranty support.
Next, work out what you'll be using the Honda pressure washer for most of the time. This will help you prioritise the right features.
To help, take a look at our pick of the best Honda pressure washers for different tasks:
-
Best for serious domestic chores
Jetwave Raptor Petrol GX Honda Pressure Washer 3000PSI
This mighty machine comes from an Australian company that specialises in manufacturing robust cleaning equipment, Jetwave. As a new release, it's crammed full of features that make light work of tough cleaning tasks around the home. Take the brass high pressure swivel, designed to prevent the hose twisting and tangling as you obliterate grime. Electric washers simply don't stand up against this Honda pressure washer, so if you need to remove built up grime or stains on a driveway or patio, then a petrol machine like this is recommended.
-
Best value for money
Gerni MC 5M 240/870PE Petrol Honda Pressure Washer 3480PSI
Gerni is a trusted name in the industry, whose pressure washers rarely disappoint. This model has an attractive price tag of around $2000, especially for a Honda pressure washer with 3480psi. The ceramic pistons, pneumatic wheels and tough framing, as well as 10 metre heavy duty hose, make it particularly good value for money. Especially for light and medium commercial tasks. Plus it comes with 1-year Gerni warranty and the 3-year Honda engine warranty. This is a popular model for tradesmen and contractors for general worksite cleaning tasks.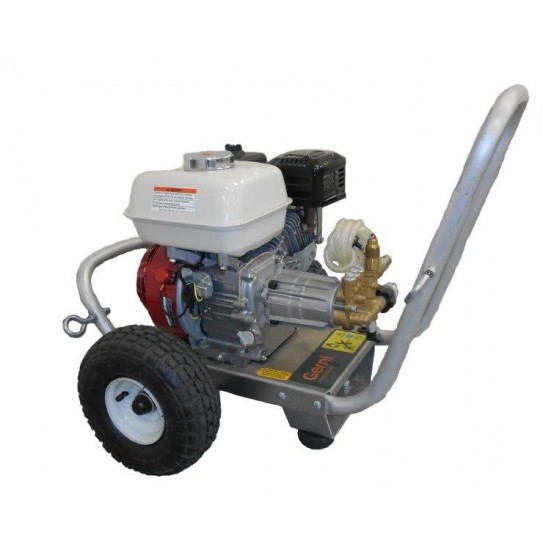 -
Best for portable worksite heavy duty cleaning
Powershot PS4200HD, Petrol Honda Pressure Washer 4200PSI
Tradies, meet your new best mate. There's pretty much nothing this Honda pressure washer can't clean up around the worksite. Made in the USA, this tough Powershot unit delivers an impressive 4200psi at 16 litres per minute. It all comes down to the 13HP GX390 Honda engine and heavy-duty CAT pump. Nifty features include a lightweight alloy frame and large pneumatic wheels for portability, plus a premium grade hose, gun and lance. Plus, it comes with a generous 3-year warranty.
This is our recommended model for tougher surface tasks such as removing old paint, rust and especially resilient grime on roof surfaces for example... to deal with that kind of task in a timely manner, you really need around 3500 PSI minimum and a flow rate of 14 litres per minute or above - this Powershot PS4200HD, Petrol Honda Pressure Washer ticks those boxes and a few more. Commonly purchased with a Turbo Nozzle accessory to assist with cleaning tough surfaces, this model is one of our most popular commercial grade pressure washers.
-
Best professional grade machine
Jetwave Senator, Petrol GX Honda Pressure Washer 4000PSI
This extremely well-engineered, robust machine makes heavy-duty cleaning jobs feel like feather dusting. Another Aussie engineered Honda pressure washer from Jetwave, it features a professional Italian triplex Interpump and a world-class Honda GX630 industrial series OHV V-twin engine. The result? A working pressure of 4000psi and flow of 21 litres per minute. Other top features include the easy electric start and heavy-duty roll frame.
This serious machine is used for; Drain Clearing, Construction Site & Large Equipment Cleaning, Factory Washdown and Large Plant Washdown.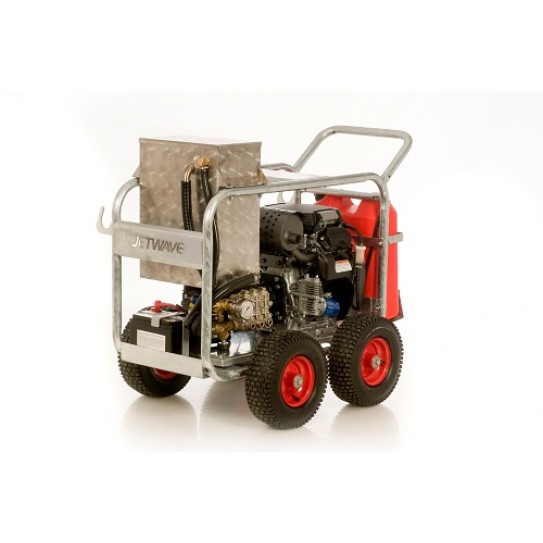 -
Want to know how Honda pressure washers stack up against the rest? Check out this blog.
-
DISCLAIMER* Please note, this advice is general in nature and we strongly recommend consulting the product manual and where relevant, a professional installer.