If you're looking for a portable fridge, Evakool is batting in the big leagues. If you've never heard of the brand or aren't sure how they measure up, our Evakool review reveals how this Australian business is taking on the big brands to become one of the top portable fridge companies.
-
Who Is Evakool?
Evakool is born and bred right here in Australia. In fact, the family-owned Aussie business has been making fridges for more than 30 years. That means when you buy a fridge today, you're getting over 30 years of experience packed into a fridge that is designed to last. Evakool's tag line is even #IconicallyAustralian!
And when we say they're designed to last, we're talking about lasting in the toughest climates and conditions Australia can hurl at us. Remember, Evakool is an Australian brand - they really know how to design fridges for Australian adventures.
In fact, Evakool is Australia's leading brand of fibreglass iceboxes AND Australia's largest manufacturer of 12-volt fridge freezers. There are over 40 fridges in its range, which includes models made out of different materials, such as polyethylene, fibreglass and metal.
-
How Evakool Is Taking On Global Brands
The unique selling point of Evakool fridges is that they are assembled and commissioned on the Sunshine Coast, Australia! Being locally made allows Evakool to closely monitor quality control and it reduces manufacturing errors. Check out the production line at Evakool headquarters below: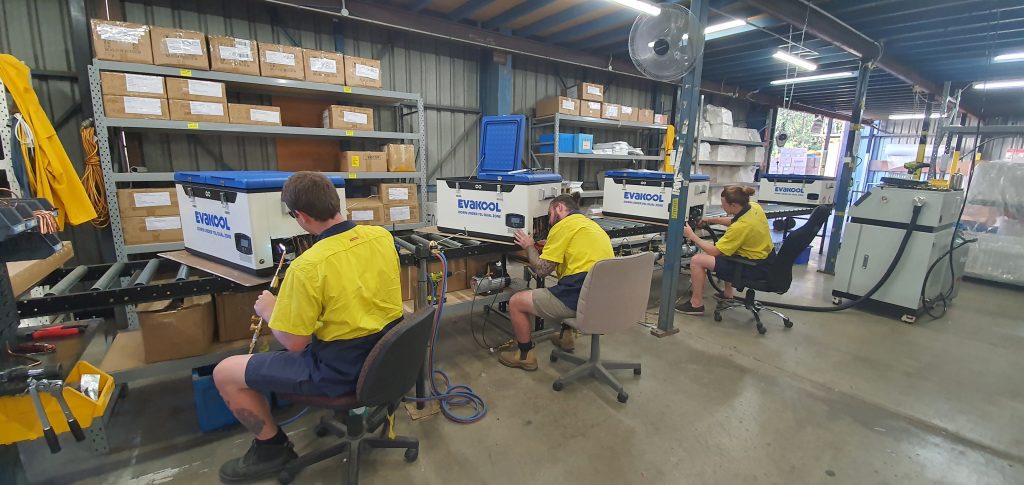 There are lots of camping fridges on the market, so you might think it's tough to stand out amongst global brands. But Evakool is taking them on with gusto.
Case in point is their two 95 litre dual zone fridge freezer models that are taking on the most popular camping fridge on the market - the Dometic CFX395.
In late 2018, Evakool launched their TMDZ-96, which excelled in the market. Then in 2021, Evakool launched the Down Under 95 Litre Dual Zone Fridge / Freezer which customer's say is a brilliant alternative to the Dometic CFX-95!
It has everything you could want in a Dual Zone model including detachable dual lids. This fridge has the ability to operate as a fridge fridge, a fridge freezer or a freezer freezer.
It also boasts the universally renowned Secop / Danfoss compressor. FYI - this compressor is in almost all Evakool fridges (upright and portable).
On another note, Evakool is also the only brand to create a portable fridge freezer range that are marinised. What does that mean for you?
It means these models are easy to clean, won't rust in marine environments and doesn't absorb fishy odours - a massive plus if you're carrying a big haul!
It's no wonder we included it in our list of the best camping fridge freezers Australia has ever seen!
There's something else that Evakool does that makes it stand out amongst the rest - they throw in a lot of bonuses. We're talking about iceboxes, covers, adapters - all of those things that make a real difference to your fridge experience.
This adds to the overall value for money. And Evakool products are generally already cheaper than competitors.
If you're looking for a drawer fridge Evakool also has you covered. Their 40 litre drawer fridge is arguably one of the most popular models on the market. It only sits at 326mm high making it the ultimate space saver. It can run as a fridge OR freezer, has a 48 can capacity and comes with a 2 year warranty on the cabinet & electronics and a 5 year warranty on the SECOP compressor.
-
What Do Our Customer's Say?
-
Let's Recap Our Evakool Review
Why Choose Evakool?
Value for money!

#IconicallyAustralian

Assembled and commissioned on the Sunshine Coast, Australia

Evakool fridges feature the world-renowned Danfoss compressor

Most camping fridges come with a 5-year warranty

Massive range of camping fridges

Offer single zone, dual zone and combi model camping fridges

Offer marinised fibreglass fridge models for fishing / boating
-
Why Choose Another Brand?
Evakool isn't for everyone. As with all camping brands, there are some drawbacks to consider when weighing up your choices.
First, Evakool technology isn't as advanced as competitors such as Dometic...
Also, its reputation isn't as well established as competitors such as Dometic and Engel. (But that's quickly changing thanks to recent product launches).
Lastly, some of Evakool's products don't feature as many bells and whistles as other brands, namely Dometic.
-
Our Evakool Review Verdict
We hope you can see from our Evakool review that this Aussie brand is definitely worth your consideration. Even though they aren't as well known as Dometic and Engel, their high-quality fridges at a good price more than make up for it. Now all you need to do is narrow down your choices to find the best camping fridge for your needs!
Need helping choosing an Evakool product? Give one of our product experts a call on 1300 400 122!
-
DISCLAIMER* Please note, this advice is general in nature and we strongly recommend consulting the product manual and where relevant, a professional installer.