You want one thing from your generator - for it to start every time you push the button. That's the case whether you're on the road, on the work-site, caravanning in the outback, or at home in a blackout. An electric start generator is designed to start without any fuss.
But with so many electric start generators on the market, how do you know which to choose? Our experts have done the hard work for you. After putting them through their paces, here's our pick of the best electric start generator models out there:
-
Best For Small Home Backup, Camping and Caravanning:
-
Yamaha EF3000iSE:
When it comes to recreational and small home backup generators, Yamaha has it covered. This Yamaha EF3000iSE is an electric start generator with excellent fuel efficiency. In fact, the inbuilt smart throttles with automatic sensors adjust the engine speed to match the required load. This means you can get almost 21 hours of continuous run-time at a quarter-rated output - at the push of a button.
Thanks to the noise block technology and inbuilt mufflers, it has super quiet operation of only 51 decibels at quarter load. It also has an inverter system so you can safely run mobile phones, laptops and TVs without worrying about power surges. To top it off, it comes with handy extras like built-in wheels and a 4-year warranty at no added cost.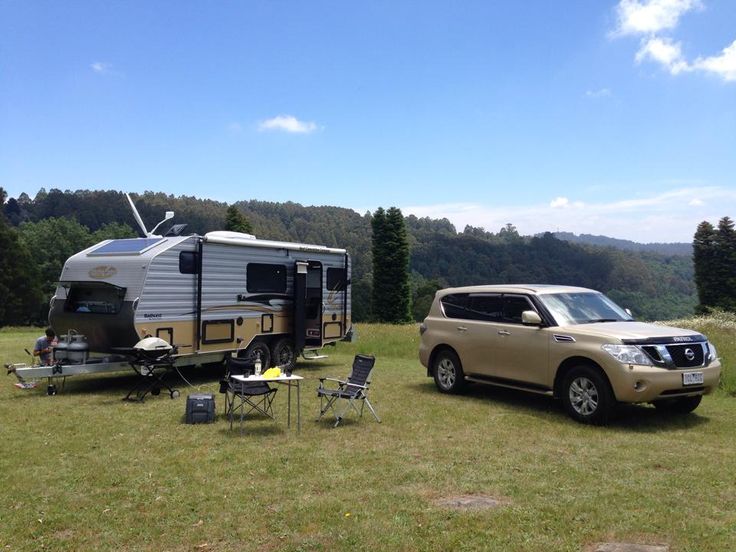 2021 Update:
We are still going to stick with our original choice, the Yamaha EF300iSE due to its exceptional performance and warranty! However, if you are looking for a cheaper alternative we recommend checking out the Engel R3000IE 3500W Pure Sinewave Inverter Generator or the DeWalt DXIG3600E, 3600W Inverter Generator with Electric Start.
Both generators do have a smaller fuel tank and therefore a shorter run time, but are still reliable generators for small home backup. The Engel comes with a 4 year warranty, while the DeWalt comes with a 3 year warranty.
-
Best For Whole Home Backup:
Yamaha EF7200E:
Okay, we know it's another Yamaha - but we couldn't go past the new Yamaha EF7200E. This beast provides a seriously impressive 11 hours of run time at quarter load on one tank. How? Because the fuel tank is a massive 28 litres. This electric start generator produces peak power of 6kVA and continuous running power of 5.5kVA, making it great for larger loads like fridges and air conditioners and other household items. No wonder the EF7200E is an increasingly popular choice for home backup power in an emergency situation, as well as farms and work-sites. Features also include a digital multi-function metre display, economy idle switch, oil level warning system and noise suppressor.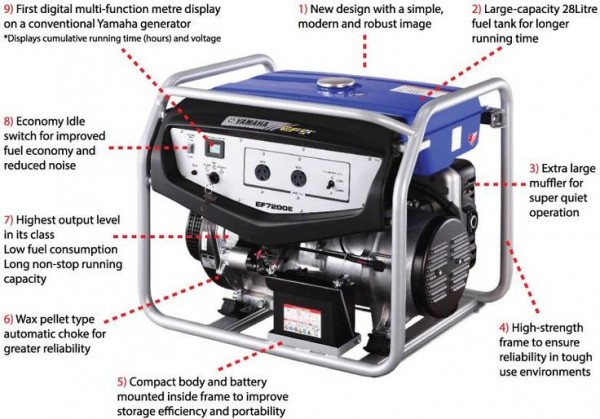 -
2020 Update:
Unfortunately, the market hasn't introduce any new outstanding electric start models around this size. We still highly recommend our original choice, the Yamaha 7200E. However, if you are chasing a super quiet generator, there is another model we would recommend - the Briggs & Stratton Q6500.
Before we go any further we have to reiterate: this generator is recoil start only. But it makes up for this in price, features and operating noise.
This generator boosts a HUGE 6500W of sine wave power, meaning it can run everything in your house including sensitive electronics. Simply purchase the Manual Transfer Switch pack from Briggs & Stratton and have it installed by a qualified electrician.
This generator has a 58dBA noise rating compared to the Yamaha, which has a 71dBA rating - to give you context the Briggs is quieter than a normal conversation! Only downside, it doesn't have electric start.
-
Best Electric Start Generator for trade: Powerlite 8kVA Vanguard
Looking for a generator you can count on to power up tools as you move from job to job? This electric start generator by Powerlite is every tradie's best mate. With a continuous output of 6800 watts, the petrol generator has enough grunt to handle portable electric tools, including 140 Amp welder (on light duty), shearing plant, and air compressor (with up to 2.2kW electric motor) - not to mention heaters, lights and appliances.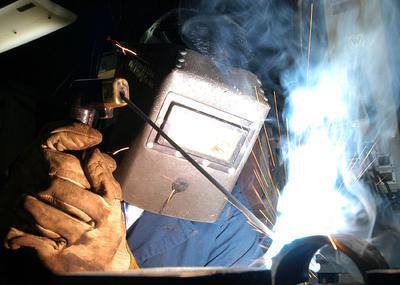 2020 Update: Powerlite Honda 8kVA Generator
The Powerlite 8kVA Vanguard has now been discontinued but even if it wasn't we would still have a new favourite in 2020: the Powerlite Honda 8kVA Generator. This generator is also built by Powerlite, Australia's leading generator set manufacturer, and is powered by a super reliable Honda GX390 4-stroke engine.
It was designed specifically with a tradie in mind and boasts 6800 watts of continuous power. That's ample power to run small to large power tools, homes and farm sites.
-
Best for diesel home backup: Pramac 8.8kVA Diesel
If there's one thing you need from a home backup generator, it's reliability under pressure. And this Pramac 8.8kVA Diesel Generator delivers every time. Powered by an economical Lombardini engine, the electric start generator is equipped with a control panel to give you ultimate command. You can also integrate other accessories, such as a auto transfer switch for backup to your mains switchboard automatically and wheel & handle kits for easy transportation.
This video is a tutorial for operation of the Pramac S series Generators:
-
2020 Update: Mosa 10kva Kohler Diesel Generator GE 10000 KD/GS-D
Unfortunately, the Pramac 8.8 kVA was also discontinued but never fear we have an even better model we recommend in 2020: the Mosa 10kva Kohler Diesel Generator GE 10000 KD/GS-D.
This 10kVA generator is designed and manufactured in Italy and meets the high quality standards of the MOSA reputation. It comes standard with electric start, oil pressure indicator, hours-meter, thermal shut-off and voltmeter. And has the option to add an earthing kit and trolley for an additional cost.
Our favourite feature of this generator is how affordable yet high quality this electric start generator is!
-
Check out the full range of electric start generators at My Generator. Can't find what you're looking for? Seeking advice on the best generator for your budget and needs? Speak to our team: 1300 400 122
DISCLAIMER* Please note, this advice is general in nature and we strongly recommend consulting the product manual and where relevant, a professional installer.